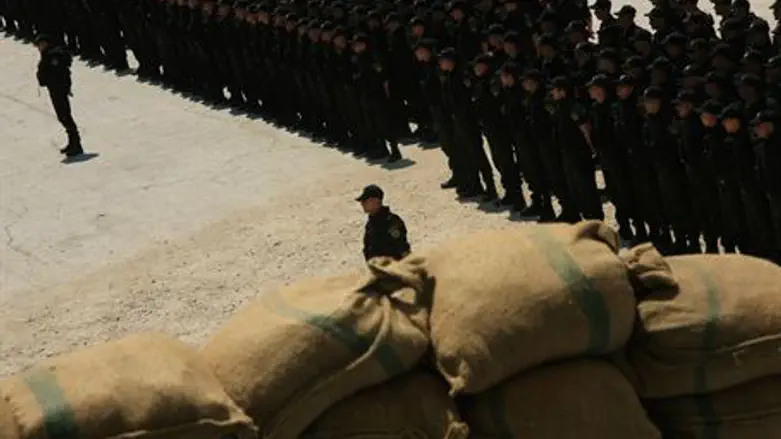 PA Police in Jenin
Flash 90
Israel's decision to recognize Ben Yosef Livnat as a victim of terrorism means that the state has officially recognized the Palestinian Authority police force as a hostile organization, Dov Kalmanovitch said Friday in an interview with Arutz Sheva.

Kalmanovitch, who heads the Zochrim organization for victims of terrorism, explained that according to Israeli law, a victim of terrorism is someone who was hurt or killed during an attack carried out "by a hostile organization, or someone sent on behalf of such an organization."

Livnat was shot and killed by PA police as he and friends left Joseph's Tomb (Kever Yosef) after praying at the site. Acquaintances said Ben Yosef and his friends often prayed at the site, and were known to PA officers in the area.
Local PA Arabs celebrated the slaying by setting fire to the tomb.

For one month the state avoided defining him as a victim of terror. "Ben Yosef's murder was carried out by Palestinian police, and the state had a problem defining the Palestinian police as a hostile organization... they did not want to publicly state that the incident was a hostile operation" said Kalmanovitch.

"The committee's decision comes after an investigation in which it was determined that there was no provocation from the side of the Jewish worshipers," he said. The investigation also found that one of the killers was formerly a member of a terrorist group. Many such men were recruited to the PA forces as part of a campaign by PA Chairman Abbas to fight terrorism by hiring terrorists as police instead.

While the committee hesitated to put PA police in the same category as terrorists in the case of Ben Yosef Livnat, the decision sets a precedent that means any similar incidents in the future will be more quickly recognized as terrorism, he added. From now on, "an Israeli hurt by them will be recognized as a terror victim," he stated.

Ben Yosef Livnat was survived by a wife and four young children. The state's recognition of him as a terrorism victim will mean more benefits for his surviving family.

He was also the nephew of Minister of Culture and Sport Limor Livnat. Minister Livnat wrote in her nephew's memory after the slaying, recalling him as "constantly laughing." She slammed the attack in which he was killed as "murder," and accused the PA of violating agreements pertaining to Joseph's Tomb.

PA Police's History of Terror
PA police officers have been involved in several previous fatal attacks. Among them was the murder of Ido Zoldan in 2007. The fact that the killers were PA officers was kept secret until after the Annapolis summit.

PA officers were also responsible for the murder of hikers David Rubin and Achikam Amichai in 2008; the young men's killers took refuge in a PA facility.

In 2010, IDF soldier Ihab Hatib was stabbed as he sat in his car at the Tapuach Junction. The murderer was discovered to be a PA policeman.

Despite the attacks, Israel has continued to give the PA police full security control in an increasing number of PA cities, including Hevron, which has a Jewish population as well. Jews in Hevron have expressed concern at the presence of armed PA officers just 100 meters from their homes.

Former Prime Minister Ehud Olmert offered amnesty to hundreds of terrorists in a series of "good-will gestures" to the PA. The terrorists were required to turn in their weapons and promise not to engage in terrorism in the future. Many were then recruited by the PA police and given new weapons.