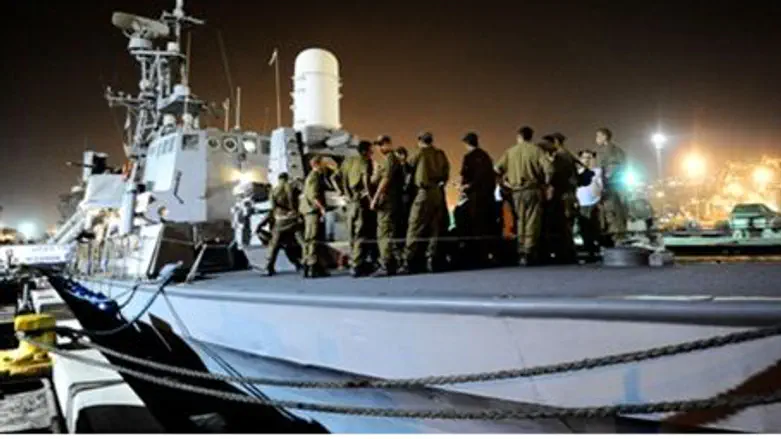 Israel Navy commandos
Israel news photo: IDF
The IDF fired warning shots Monday at a Malaysian ship steered by a former flotilla activist and thus upheld the maritime embargo aimed at preventing weapons from entering Hamas-controlled Gaza. No one was injured.
The incident comes one month before the Turkey-based and terror-linked IHH organization intends a repeat performance of last year's attempt to break the embargo. This, despite Israel's policy of allowing overland entry of all goods and merchandise except for explosives and weapons.
The "MV Finch" was being steered by Mahatir Mohammed, age 85, according to the French news agency AFP. An IDF spokeswoman said the Navy fired warning shots after Mohammed refused to answers calls to turn back to El Arish, Egypt, where the boat had been docked.
A Malaysian journalist on board confirmed that Israel Navy boats stationed themselves around the boat after warning shots were ignored and then fired another shot. After the Navy soldiers warned they would board the ship if it did not change course, Mohammed turned it around.
The effort to break the embargo was sponsored by the Perdana Global Peace Foundation, which said the boat was carrying sewerage pipes that had been loaded in Greece.
The ship's sailing was coordinated by the Free Gaza Movement and IHH, also known as the "Turkish Relief Foundation," whose Turkish branch has been branded as a terrorist organization by Germany. Its claim that it was carrying humanitarian aid in last year's flotilla, which was intercepted by the Israeli Navy, was shown to be false.
After IHH activists on the Mavi Marmara ship attacked Navy commandos, the soldiers killed nine of the terrorists and towed the boats to the Ashdod port, where the Mavi Marmara was found to be empty of any humanitarian aid.