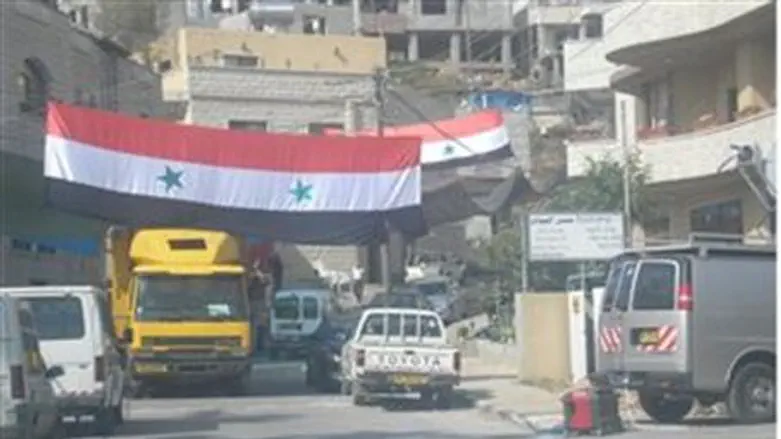 A Syrian Flag in Majdal Shams
Israel news photo: Shimon Cohen
At least one person was killed and dozens were wounded as IDF soldiers try to beat back nearly 1,000 Syrian Arabs who called themselves "Palestinians" and invaded the Golan Heights Sunday during Nakba Day protests. Syrian troops at the border did not prevent the infiltration. 
Analysts had predicted the possibility, suggesting that Damascus would allow the crossings to draw the populace's attention and participation away from the ongoing rebellion in the country and the regime's harsh crackdown on civilian protestors.
The casualty was identified as an Israeli citizen, and one other person was killed on the Syrian side of the border. Three others reportedly were killed on the Israeli side, but there has been no official confirmation.
The Syrians reached the Druze town of Majdal Shams, located near the border and on the road to the Hermon Mountain range.
Dozens of ambulances have been dispatched as the IDF uses tear gas and live fire as it tries to force the Syrians back across the border.
The government has not explained how and where the Syrians were able to cross the border, but they may have marched on an area that is off limits because of the presence of land mines from the Yom Kippur War in 1973.
At the same time of the massive infiltration into the Golan Heights, Syrian soldiers a shot and killed a woman and wounded five others, including  a Lebanese soldier, during a protest at a Lebanese border village against the regime of Syrian President Bashar Assad.
Hundreds of Syrian Arabs have crossed into Lebanon to flee the violence from Assad's security forces who already have killed nearly 800 demonstrators.
The Naharanet website in Lebanese reported that an armed Syrian plainclothes officer waded across a river at the border towards a Lebanese village but was turned back by Lebanese civilians.