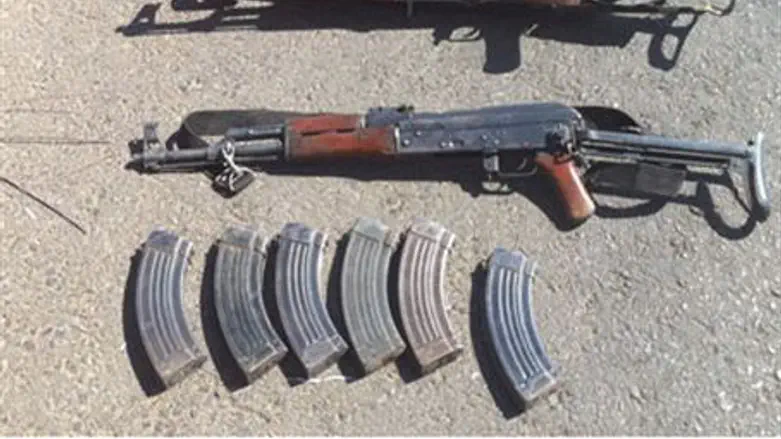 Weapons confiscated from Gaza smugglers
Israel news photo: IDF
Egypt's new provisional government has surrendered control of the northern Sinai, where Hamas and allied terrorists are smuggling more weapons into Gaza, according to the Israel Security Agency (Shin Bet).
The smuggling network is comprised mainly of Bedouins whose main source of income is from smuggling, the ISA said.
Former Egyptian President Hosni Mubarak's regime deployed soldiers in the northern Sinai and sometimes closed down terrorist tunnels from Egypt into Gaza, but the Israeli military also had expressed dissatisfaction with the soldiers' often turning a blind eye to Hamas smugglers.
Since Mubarak's ouster, the situation is a lot worse, according to the ISA, which warned "that the scope of weapons smuggling to Gaza…by terrorist organizations is expanding. Weapons are smuggled into Gaza with relative ease by smugglers who live in the Sinai Peninsula."                                                                                                                                              
Officials added in a statement, "Egypt exerts little authority over the Sinai Peninsula, which allows smugglers to operate without almost any interference."
The three-week Operation Cast Lead counterterrorist campaign two years ago severely crippled the smuggling of terrorists, explosives and advanced weapons, but the change in the government has allowed terrorists easier access to more advanced weapons that Hamas and allied terrorists are stockpiling for attacks on Israel.
Security officials previously have warned that Hamas possesses anti-aircraft missiles that can bring down an Israeli airplane. Earlier this year, an Iranian-supplied and Russia-manufactured advanced anti-tank missile hit a school bus in the western Negev, killing a U.S.-born Jewish teenager.
"Iran stands behind the armament effort as that country seeks to increase its influence" in Gaza, the ISA added. It explained, "The central smuggling route to Gaza is based on the transfer of weapons from Iran to Sudan, from where the weapons are moved into Egypt before being smuggled into Gaza.
"Hundreds of rockets, mostly with ranges of 20-40 kilometers, about 1,000 mortar shells, dozens of individual anti-tank missiles and tons of explosives and explosives-making materials have been smuggled via this route since 2010."