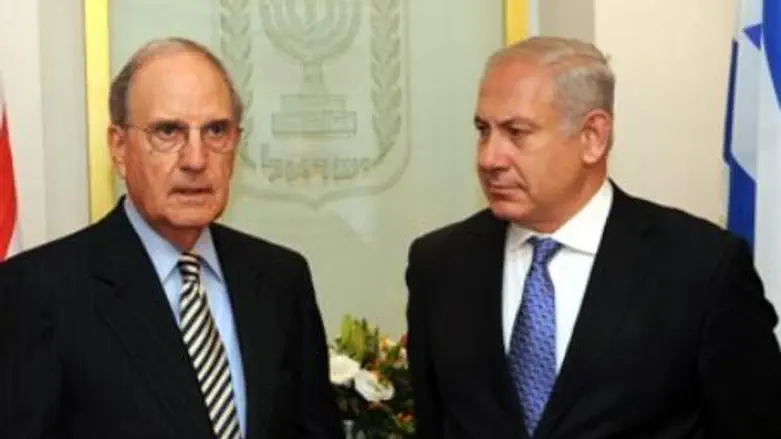 Mitchell with PM Netanyahu
Israel news photo: Flash 90
The Palestinian Authority's refusal to negotiate with Israel is what led to the failure to reach a final status agreement, Prime Minister Binyamin Netanyahu told U.S. Special Middle East Envoy George Mitchell.
Netanyahu spoke with Mitchell by phone Saturday after learning that Mitchell had submitted his resignation to President Barack Obama.
The prime minister told Mitchell he was sorry to hear that he was resigning, and expressed his disappointment that PA officials refused to come to the negotiating table.
The PA leadership had "set countless preconditions that made [the envoy's] work difficult, and at the end of the process even united with Hamas," the prime minister told Mitchell.
In his letter, released by the White House on Friday but dated April 6, Mitchell said he had originally agreed to serve two years, and had already served longer - two and a half years.
The resignation takes effect on May 20 – the same day that Netanyahu is scheduled to visit with Obama at the White House. Deputy Middle East envoy David Hale has been appointed to step in to take his place temporarily.