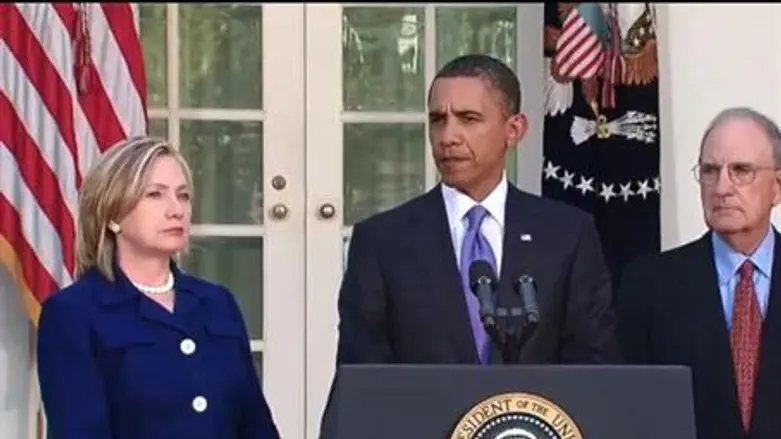 US Secy Clinton, President Obama, ME envoy Mi
Israel news photo: White House.gov
U.S. Special Middle East envoy George Mitchell, 77, has resigned his post. Although the White House released the brief letter of resignation on Friday, it was actually dated April 6.
The move had been "a long time coming," commented Hussein Ibish of the American Task Force for Palestine, who told reporters, "To be honest, he didn't have a lot to work with here."
Former deputy Middle East Quartet envoy Robert Danin was more blunt in an analysis written for the Council of Foreign Relations.
The resignation, he said, "makes formal what was clear for some time – the president's goal of an Israeli-Palestinian peace agreement by September is unattainable and negotiations are not about to resume any time soon."
In his letter, Mitchell said he strongly supported Obama's "vision of comprehensive peace in the Middle East."
Secretary of State Hillary Clinton has appointed Mitchell's deputy, David Hale, to take over as acting envoy when the resignation takes effect on May 20.