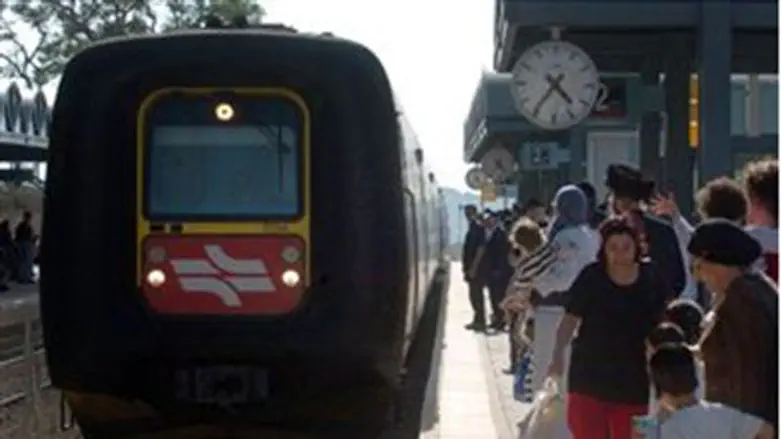 Train (illustrative)
Israel news photo: Flash 90
Thursday morning commuters were frustrated to discover that a wildcat strike by Israel Railways workers the evening before had left trains standing motionless on the tracks, leaving them scrambling to find other ways to reach their jobs on time.
Despite an injunction issued by the National Labor Court against the strike, trains remained stalled on the tracks. The Court upheld its back-to-work order, at least until Monday, at a hearing Thursday morning.  Included in the court directive was an order to make sure that all IDF soldiers reach their homes -- but the order has been ignored by railway workers, who have not returned to their posts.
Another hearing on whether the workers are entitled to strike has also been scheduled for next Monday. 
Meanwhile, the Israel Railways management said it is working to get employees back on the job.
The strike was ignited by the arrest of the head of the Union of Railroad Workers and nine other workers. The arrests came during a demonstration Wednesday night in front of the home of the Israel Railways chairman as workers protested plans by management to privatize the company.
In response, union workers walked off the job.
Railway management blamed the union chairman and workers for causing the railroad to "deteriorate and hurt the public passengers." In a statement issued during the night, management said, "We are sorry that since the election of the [union] chairman, industry relations, trust, respect for the law and concern for passenger safety have all been hurt."
The labor union responded that its workers were forced to strike since the option of an organized protest had been denied them.