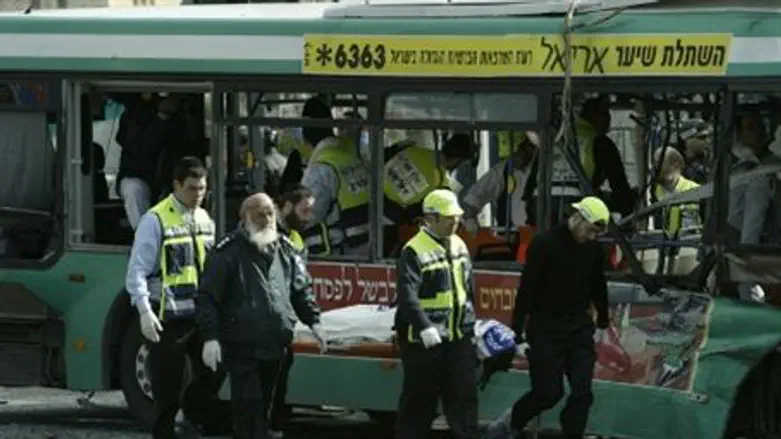 Bus bombed in 2004 suicide attack
Israel news photo: Flash 90
A German city funded and hosted a pro-Hamas "The Return Generation Knows the Way" conference Saturday, complete with Nazi terminology and incitement for suicide bombings.
The Hamas-linked anti-Israel Palestine Return Center in London, which has become a de facto center for Hamas and other radical Muslim groups, hosted the confab that in the words of the American Jewish Committee, has the single aim of "the denial of the existence of the State of Israel."
The annual conference promotes the Arab world demand that millions of foreign Arabs, whose grandparents and great-grandparents left Israel in 1948, be allowed to immigrate to the Jewish state.
A flood of millions of Arabs would reduce the number of Jews in Israel to a minority, and the Arab demand, couched in the term of the "right of return," has been rejected by virtually all Jewish political streams in Israel, including left-wing parties.
The "right of return" is the Arab copy-cat version of the Israeli law that guarantees Jews everywhere in the world to live as citizens in the State of Israel.
The Hamas conference in the city of Wuppertal also has adapted the Nazi slogan of the "final solution," which referred to the death machine that gassed, butchered and starved 6 million Jews in the Holocaust, and has twisted it around to promote a "final solution" for foreign Arabs allegedly claiming Israel as home.
""The conference unites extremist forces throughout Europe with well-meaning but naïve supporters of the peace process who turn a blind eye to the profoundly anti-Zionist and anti-Semitic nature of the previous eight conferences." according to Deidre Berger, Director of the AJC Berlin Ramer Institute for German-Jewish Relations. 
Similiar conferences, which are held primarily in Arabic, attract thousands of participants. Speakers at the conferences, including videotaped messages from Hamas officials, deny Israel's right to existence, reject peace negotiations and glorify suicide bombings.
"German officials send mixed signals when they declare support for the government of Israel but allow conferences to take place on German soil with speakers who openly deny Israel's right to existence," said Berger.
"The conference is taking place in a public auditorium that is jointly owned by the city of Wuppertal and the state of North-Rhine Westphalia," he added.