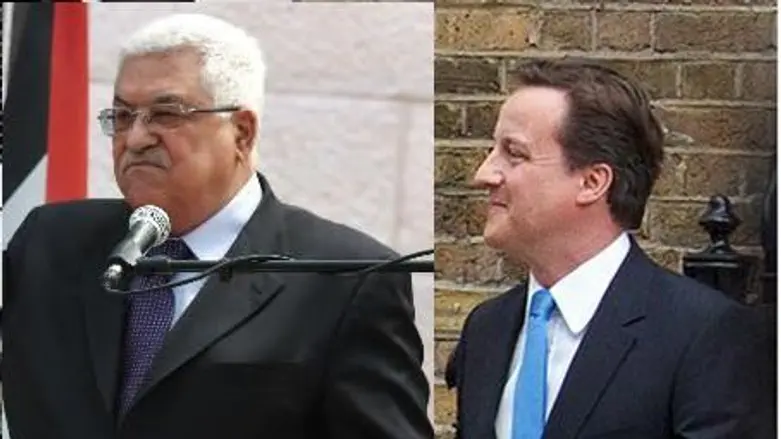 Abbas and Cameron
Israel news photo montage
Prime Minister Benyamin Netanyahu is paying an official, three-day visit to Britain and France – whose leaders are now said to be threatening to recognize a Palestinian state.
Greeting Netanyahu on Wednesday at 10 Downing Street, England's Prime Minister David Cameron said, "Britain is a good friend of Israel and our support for Israel and Israel's security is something I have described in the past, and will do so again, as unshakeable. We are strong friends of Israel."
Freudian Slip
"We think, though," he added, that "now there is a real opportunity - with the end of Bin Laden, with the Arab Spring, with all that's happening in the world - we think this is a moment of opportunity… to push forward the process of peace between Israel and Palestine."
Palestine, of course, does not exist – the Oslo Accords recognize the Palestinian Authority – but this "slip" was apparently a harbinger of true British intentions to recognize a unilaterally-declared Palestinian state this coming September.
The Guardian reported yesterday that British government officials are holding this threat very distinctly over Israel's head. The paper quoted a "diplomatic source" implying a British position of, "This will hurt me, but I may have no choice." 
Gentle Threat
The source's exact words were: "Britain's clear and absolute preference is for a negotiation to take place between Israel and the Palestinians which leads to a two-state solution which everyone endorses. But at this point Britain is not ruling anything out. The more Israel engages seriously in a meaningful peace process, the less likely it is that this question of unilateral declaration would arise."
Regarding the expected PA bid to secure recognition at the UN General Assembly in September, the source said that if Netanyahu refuses to join substantive talks with the PA, "Europe would be asked a very difficult question and we don't know yet what the answer to that question will be."
Netanyahu has long called for direct talks with the PA, which has refused to agree unless Israel formally stops all construction in Judea and Samaria – a step that Israel took for ten months without any significant move to talk on Abbas' part, and which it largely continues to implement de-facto.
French leaders are also expected to make a similar recognition threat to Netanyahu.
Prior to his meeting with the British leader, Netanyahu told reporters in London that the Fatah-Hamas agreement signed in Cairo was a "tremendous blow to peace and a great victory for terrorism. Three days ago, terrorism was dealt a resounding defeat with the elimination of Osama bin Laden; today, in Cairo, it had a victory."
Netanyahu on Fatah's Agreement with Obama-Praising Hamas
As Netanyahu noted, Hamas condemned the United States for its killing of arch-terrorist Bin Laden. He said that PA chief Mahmoud Abbas, in signing the unity agreement with Hamas, had "embraced" an organization that condemned the American operation against Bin Laden and called him a "great martyr."
"When he [Abbas] embraces this organization, which is committed to Israel's destruction and fires rockets on our cities, this is a tremendous setback for peace and a great advancement for terror," Netanyahu said. "What we hope will happen is that we find peace - and the only way we can make peace is with our neighbors who want peace. Those who want to eliminate us, those who practice terror, are not partners for peace."