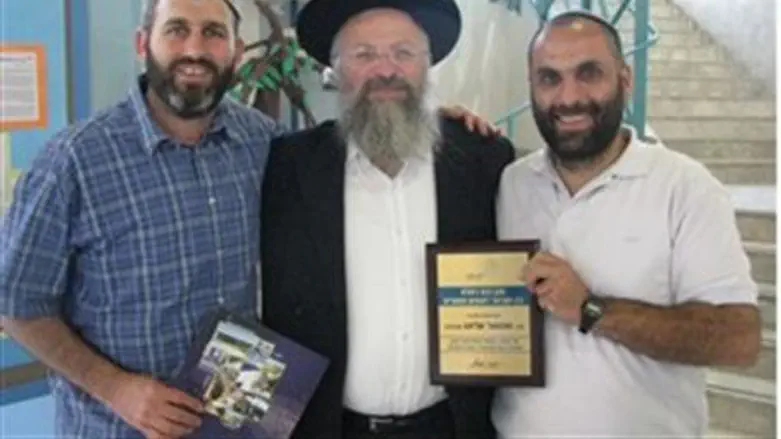 (l-to-r) Ben-David, Rabbi Eliyahu, Cohen
Komemiyut
The Ramle Conference, which dealt with the problem of decreasing Jewish population in cities such as Lod, Acco, and Jaffa, was boycotted by Kadima MK Nachman Shai under left-wing pressure.
MK Shai, who took part in a recent conference with internationally-funded anti-Zionist elements, canceled his planned appearance at the Ramle Conference just a day before he was to speak there. On the day of his cancellation, an anti-nationalist left-wing organization announced that it would demonstrate outside the conference. This was one of the methods by which it tried to pressure MKs to cancel their participation.
Conference organizers Ariel Ben-David and Moshe (Musa) Cohen wrote a letter to MK Shai, protesting what they called his contribution to estranging various sectors of society and his hypocrisy in choosing what conferences to boycott. They further demanded that he apologize for his actions.
"Retreating from your commitment after previously confirming it," Ben-David and Cohen wrote, "and canceling your lecture in the wake of left-wing pressure, is a dishonorable and disrespectful way to act."
The letter noted that Shai had taken part in a conference at Ben Gurion University in the Negev together with anti-Zionist organizations funded by international groups that call for boycotting Israel. "You justified your participation there by saying you do not negate dialogue with any position," Cohen and Ben-David wrote.
"The Ramle Conference featured Jewish and Zionist bodies," the letter stated, "[and] even if you differ with them, they are certainly worthy of being partners to dialogue. Our ability to live as one society depends, inter alia, on the ability to discuss and express our positions. The prevention of debate is the beginning of clash and estrangement."
"We expect that you will apologize for your absence from the Conference, and thus contribute to the formulation of appropriate norms of public behavior," the letter concluded. Copies were sent to Knesset Speaker Reuven 'Ruby' Rivlin, Knesset Ethics Committee head MK Shelly Yechimovitch, and Kadima Party head MK Tzipi Livni.
Participants in the conference included Tzfat Chief Rabbi Shmuel Eliyahu, who happily noted that the recent rabbinic ruling forbidding the sale of homes to Arabs in mixed Arab-Jewish cities "is working." Other participants were Kiryat Arba-Hevron Chief Rabbi Dov Lior, Beit El Chief Rabbi Zalman Melamed, Science Minister Daniel Hershkovitz, MKs Ze'ev Elkin (Likud), Yaakov Katz (NU) and Daniel Ben-Simon (Labor), and others.
Issues discussed included Open Areas in the Galilee and Negev, Public Land-Use Policy, the Jewish National Fund, and the like.