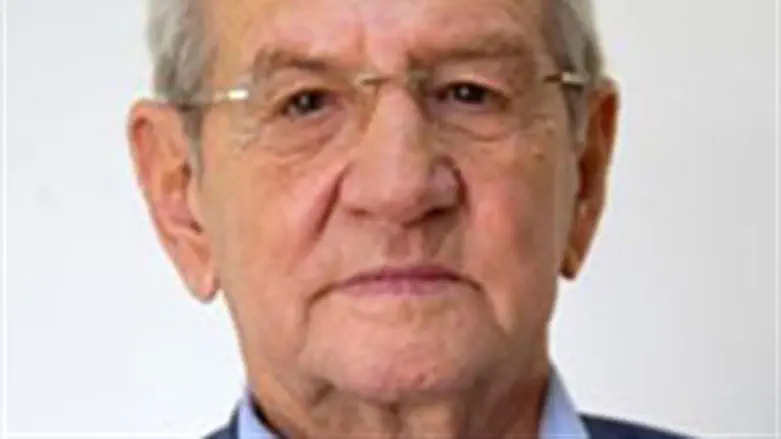 Yona Fuchs
Yad Vashem
Yona (Janek) Fuchs  is one of the six torch lighters who participated in the official openeing ceremony of this year's Holocaust Martyrs' and Heroes' Remembrance Day. Yad Vashem, The Holocaust Martyrs' and Heroes' Remembrance Authority presents his story.
Yona was born in Lwow (today Ukraine) in 1925 to Tzila and Aharon. He studied at the local Jewish school, and he and his older brother Moshe (Mundek) learned Hebrew and received a Zionist education at home.
In June 1941, the Germans entered Lwow and murdered thousands of Jews. In November, the survivors were ordered into a ghetto. Because of his "Aryan" features, his parents encouraged Yona to escape from the ghetto. His father obtained for him a forged birth certificate and sent him to stay with a non-Jewish friend in a nearby village. While Yona was living there, all of its Jewish residents were shot to death.
Longing for his family, Yona returned to Lwow a few weeks later. When he alighted from the train, he saw Germans carrying out a manhunt for Jews. He picked up a Christmas tree and returned without incident to his family in the ghetto.
In the summer of 1942, most of the ghetto residents were sent to the Belzec extermination camp. During the aktions, Yona, Aharon and Moshe (Tzila had died earlier) hid in an attic, but were later taken to the Lwow-Janowska concentration camp. On Christmas, Yona and his friend Marian Pretzel took advantage of the guard's drunkenness, dug underneath the fence and escaped. Wearing clothing they had taken from the camp, they pretended to be Polish tradesmen and traveled to Kiev. There they found work in a German company, where, due to his fluency in German, Yona was appointed the company's interpreter, and sent to Lwow to recruit more workers. He was able to bring 20 Jews from Lwow to Kiev, among them his father and brother. They were all saved, except for Aharon and Moshe, who were murdered in Kiev by the Gestapo.
During his trip to Lwow, Yona found documents belonging to German soldier in the train's restroom. The documents helped Yona obtain German army uniforms, and with Marian expertly forging the stamp, the two of them posed as German soldiers.
Narrowly escaping the Gestapo, they arrived in Bucharest, where Yona purchased a weapon under his assumed name and used it to train youngsters of the Gordonia youth movement. They later moved to Budapest, endangering their lives to smuggle a Jewish girl to her family in Romania.
In November 1944, Yona and Marian emigrated to Israel, where Yona fought in Israel's wars and established his home in Haifa. He regularly gives testimony about his wartime experiences. Following the death of his first wife Hannah, Yona married Dr Inna Fuchs. Yona has three children and fourteen grandchildren.