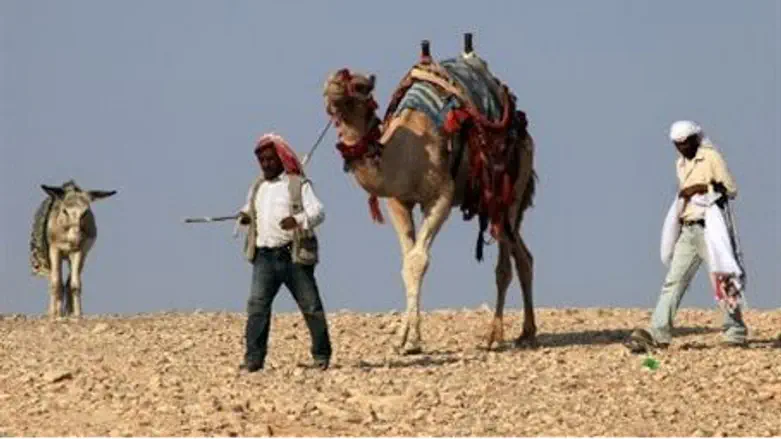 Bedouin roam the desert
Israel news photo: Flash 90
"Israel should help pay the Bedouin to move back where they came from – Libya and Saudi Arabia", said Kiryat Arba-Hevron Rabbi Dov Lior at the fourth annual Ramle Conference Tuesday.
"There is land available in Saudi Arabia and Libya. They have enough land. But if we leave them here, where they work against the People and State of Israel, we are creating a problem with no solution", according to Rabbi Lior.
The Bedouin population in the Negev, aided by Israel's relaxation of laws against polygamy in favor of Bedouins, has shot up from slightly more than 10,000 in 1948 to well over 125,000 today. Bedouin youth traditionally served in the IDF until recent years, when  increasingly larger numbers of potential soldiers have begun rejecting volunteering for the army, preferring to cooperate with Hamas terrorists to steal and smuggle weapons and to attack Jews.
A 10-year-old survey reported that 42 percent of the Bedouin reject Israel's right to exist, and the number has grown since then.
Rabbi Lior said he favors a humanitarian solution which includes giving the Bedouin financial aid to relocate, unlike the government expulsion of Jews from Gush Katif in Gaza nearly five years ago. The Katif expulsion victims sued the government through the High Court, which advised officials that the aid offered to them did not even come close to the sum that would satisfy the Israeli Basic Law's definition of Human Rights and Dignity.
Rabbi Lior also rejected the idea of land swaps within the country. "Arabs [and Bedouin] are against the very existence of Israel," he said. "Ownership of the land is part of the struggle. We have no fight with them. They are fighting with us.
This year's Ramie Conference dealt with the problems of land ownership and management. Also participating were Tzfat Chief Rabbi Shmuel Eliyahu, Beit El Yeshiva Dean and Chief Rabbi Zalman Melamed, and Ramat Gan Chief Rabbi Yaakov Ariel.