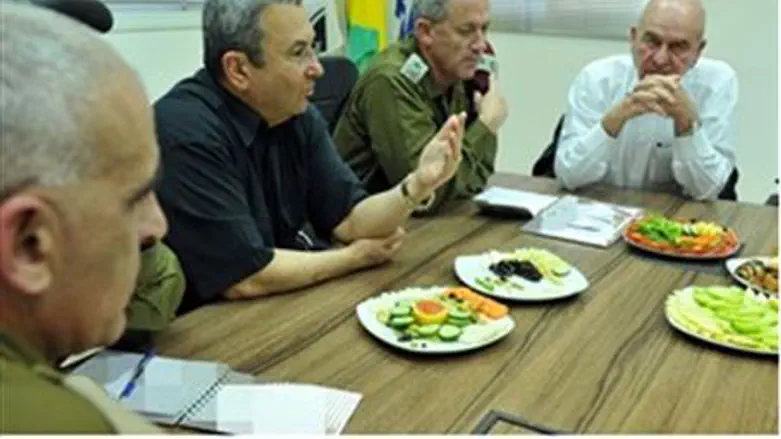 Barak visits Gaza Division
Israel News photo: Ariel Hermoni, Defense Min
Defense Minister Ehud Barak visited the Gaza Division headquarters on Thursday, where he addressed the terror escalation in the south.
"Shooting a missile into a bus, which resulted in the critical injuring of a boy whom I hope fully recovers, is a very serious event because it constitutes a hit deep inside Israel from deep inside the Gaza Strip," said Barak and emphasized: "This is something we cannot accept."
Barak addressed the IDF's retaliation to the attacks and noted that "The actions taken now are a response to this incident and will continue as long as necessary, in order to clarify that such acts cannot continue. The IDF's reactions are very purposeful and effective."
The Defense Minister stressed that "We see Hamas as responsible for everything that happens and originates in Gaza, and we expect that Hamas will understand what is allowed and, of course, what is forbidden."
Barak also spoke about the Iron Dome's first successful interception on Thursday of a Grad rocket which was fired from Gaza toward the city of Ashkelon.
"There was a successful first interception of the Iron Dome system," he said. "The system was developed precisely to do so, that's why it was built. It's no secret that we currently have only two active systems. We have a long way to go before we can truly say that we have a complete solution."
Barak added that "the system worked and was apparently successful, and it's good that it happened, but that does not mean that it will be able to stop every shooting. This is why we have is the IDF, the ability to attack, the fighter jets, the other aircraft, and the ground forces."
He ended by saying: "I really want to take this opportunity to say to the Chief of Staff and the GOC that my impression is that very serious and professional work is being done here, using common sense, responsibility and determination."