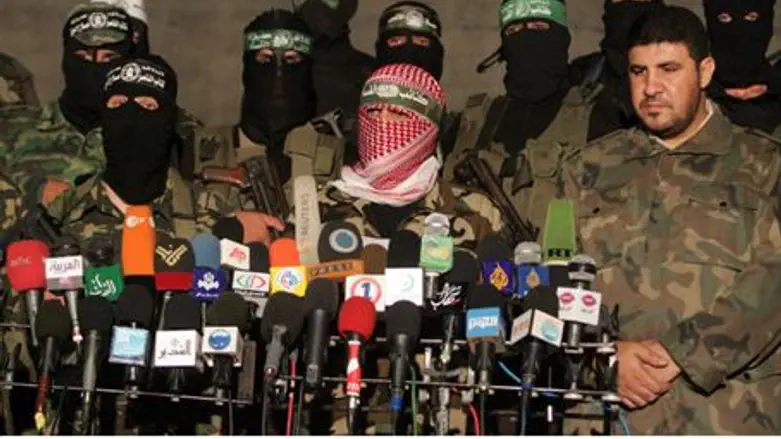 Hamas and other terrorists at Gaza news confe
Israel news photo: Flash 90
Hamas intends to kidnap Israeli civillian in Israel with a special focus on the Jewish population of Judea and Samaria, the National Security Council Counter-Terrorism Bureau warned Wednesday.
The warning comes as intelligence sources cited tangible reports from reliable sources.
In addition, Israelis who plan to travel abroad for Passover have been warned of hotspots for kidnapping attempts. Countries on the list include Turkey, Jordan, Egypt, Morocco, the United Arab Emirates, Georgia, Armenia, Kenya and Nigeria.
The Council Counter-Terrorism Bureau advises Israelis in these countries conceal their identity, use air travel as their means of transportation, and only travel during the day.
Last Saturday the Counter-Terrorism Bureau also issued a strong warning to Israelis to leave Sinai immediately. "Terrorist elements remain in Sinai and are making preparations for kidnappings along with extremists among the local Bedouin tribes," the warning stated

The warning also asked Israelis with relatives staying in Sinai to contact their relatives and tell them of the warning, saying, "recent and reliable information obtained by the security services indicates terrorist organizations continue to plan to kidnap Israelis in Sinai to use as bargaining chips. The Counter-Terrorism Bureau strongly recommends Israelis refrain from going to Sinai and is calling on all Israelis currently there to leave immediately and return to Israel."
Counter-Terrorism Bureau officials explained "the security situation in the Sinai, which is characterized by instability, produces a real danger of attacks on Israelis there. Over the weekend the IDF a hit Hamas cell in Gaza, which was involved in planning attacks in the Sinai. This demonstrates the reality."