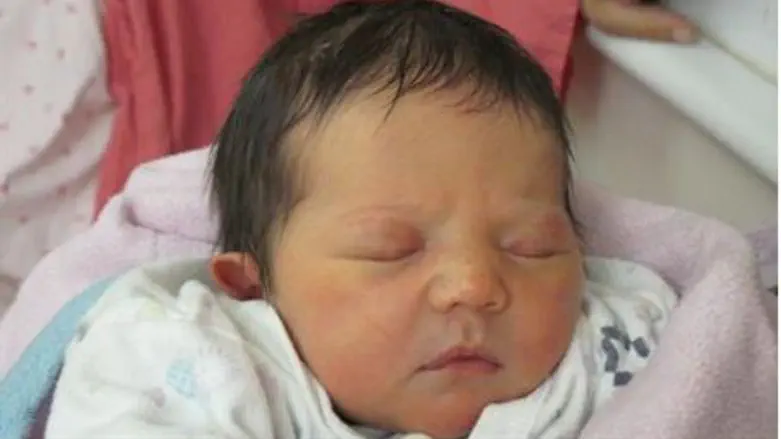 Terrorist attack victim baby Hadas Fogel
Arutz 7 photo
Israel soldiers and security forces Monday night arrested 60 more Arabs, including a deputy mayor, for DNA testing in the search for the murderers who massacred the Fogel family at Itamar two weeks ago.
The search has focused around the village of Awarta, which is located within view of Itamar. The latest arrests bring the number of Arabs questioned to approximately 100 since the brutal stabbings of Rabbi Udi and Ruth Fogel and three of their six young children, including a three-month-old baby.
Israel has imposed a gag order on the investigation, but it is known that approximately 40 Arabs still are in custody.
Awarta mayor Qayas Awad, told the Bethlehem-based Ma'an news agency, "They took samples for DNA tests and all were fingerprinted before being interrogated. Some were released, but more are being kept in custody." One of those questioned is his deputy.
Palestinian Authority Chairman Mahmoud Abbas has said that he is sure Palestinian Authority Arabs were not involved in the Friday night slaughter, which most foreign media barely reported, concentrating instead on the building that Netanyahu authorized in response, while some news agencies stated  that the killers were "intruders." None of the foreign reports referred to "terrorists," a word usually reserved for attacks in news agencies' native countries. The Fatah- connected El-Aksa Brigades first claimed responsibility for the barbaric muders, but withdrew the claim later on.
Another leading PA leader said that the killers were foreign workers employed by the Fogels, although Israel National News' investigation discovered that no foreign workers are or were employed in the entire community of Itamar, making this allegation patently false.