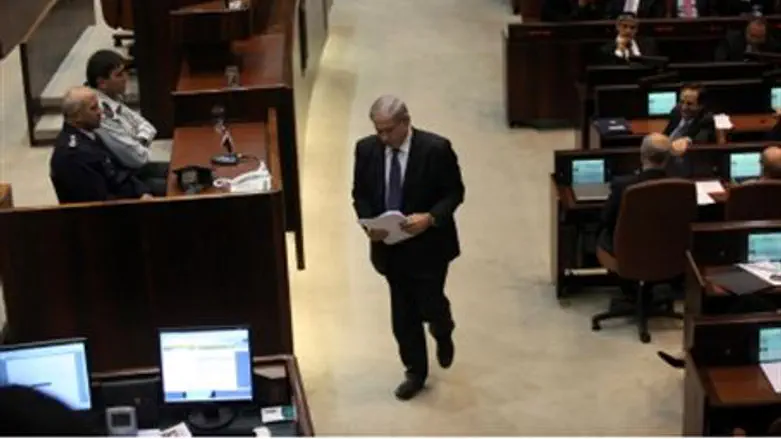 Netanyahu in the Knesset (file)
Israel news photo: Flash 90
Prime Minister Binyamin Netanyahu decided Monday morning to give members of his faction freedom to vote as they see fit on the establishment of committees of inquiry into the funding of far-left organizations. Following Netanyahu's decision, Israel is Our Home, the Knesset faction headed by Foreign Minister Avigdor Liberman, asked Coalition Whip MK Ze'ev Elkin to postpone the vote on establishing such a committee - a vote that was scheduled for next week.
Liberman called Elkin on the phone from Brussels, where he is currently attending a meeting of European foreign ministers, to request the postponement. MK Faina Kirshenbaum of Israel is Our Home was supposed to head the committee of inquiry into funding of radical leftist groups by foreign governments. 
MK Danny Danon (Likud), who was supposed to head a second committee to look into foreign funding of land purchases by Arabs, said he would decide in the course of the day whether to go ahead with the vote on creating that committee, or to postpone that vote too.
Analysts estimated that following the decision by Netanyahu to allow freedom in the vote, the Knesset would most likely reject the proposed committees. Several prominent Likud ministers and parliamentarians from the party's "old guard" have been saying for weeks that they
oppose the establishment of the committees
. Liberman scorned these politicians, describing them as elitists (
"feinshmekers"
in Yiddish). There were reports Monday that additional MKs in Likud would vote against the committees if the matter is brought before the plenum.
Sources close to Netanyahu said that he does not think that the committees would help in the battle against the funding of activities for delegitimizing Israel. The sources aid that it would be unwise to establish a committee that is "toothless" on the one hand, yet would cause Israel's image further international damage. The proper way to go, they said, would be to pass legislation regulating foreign funding of activist groups, rather than create committees of inquiry which the Left portrays as "McCarthyist."
The term "McCarthyist" refers to U.S. senator Joe McCarthy, who was prominent among the leaders who undertook a "cleansing of the stables" in the 1950s to rid America of Communist infiltration. Communist sympathizers blasted McCarthy for allegedly targeting innocents, but the unsealing of Soviet records in subsequent decades showed that most if not all of his suspicions were warranted.