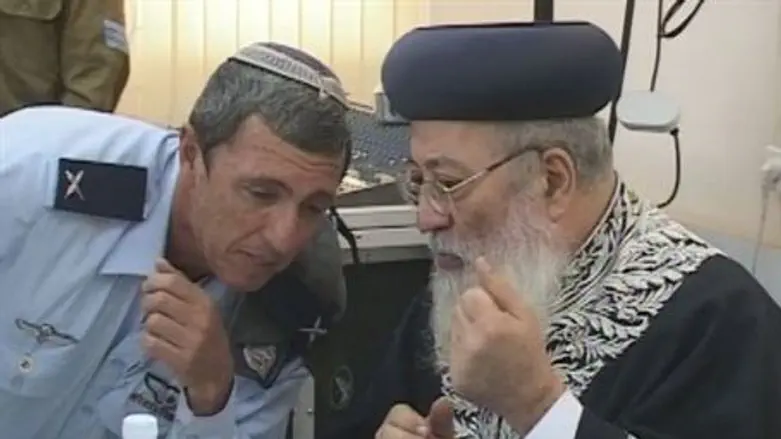 Rabbi Peretz and Rabbi Amar
Yoni Kempinski
On Sunday, Israel's chief rabbis, Rabbi Yona Metzger and Rabbi Shlomo Amar, visited the Military Rabbinate unit of the IDF. The two rabbis were greeted by the Chief Military Rabbi, Rafi Peretz, and by the new Deputy Chief of Staff, Major General Yair Naveh.
The meeting was held in the wake of a heated debate over military conversions, which has seen Hareidi Ashkenazic Rabbinic leaders from the Lithuanian community and Chabad-Hassidic community voicing their opposition to the conversions to Judaism conducted in the IDF. The rabbis said that they believe that in the IDF converts are allowed to proceed with their plans to convert even if they do not intend to attempt to keep a halakhic lifestyle.
The visit by Israel's chief rabbis to the Military Rabbinate is seen as a way of strengthening a position expressed by Rabbi Amar's, who had said that the conversions were valid and with support for the IDF rabbis from religious Zionist rabbinic figures.
"There is a great connection between the Chief Rabbinate of Israel and the Military Chief Rabbinate," Rabbi Metzger told Israel National News TV during Sunday's visit. "There is a bridge between us and the Chief Rabbi of the military. Today we wanted to show all the soldiers that we are am echad (one nation). We hope to bring strength to our soldiers, particularly these days when we don't know what will be around us in the future."
Rabbi Metzger noted that Rabbi Peretz is also a member of the Chief Rabbinate's Council. "All the decisions that we make are made together with him," he said. "It's all done according to halakha. The connection between us is very good and we are proud of our soldiers and of the Chief Rabbi of the army and all his staff."
Rabbi Amar addressed the conversion issue during the visit and once again clarified that military conversions are done according to all halakhic criteria and that there were no "discounts" because of the fact that Israeli soldiers are involved.
At the beginning of the meeting, Rabbi Peretz noted that both he and Deputy Chief of Staff Naveh are graduates of the Netiv Meir yeshiva. Rabbi Metzger also referred to the fact that Naveh is the first Orthodox Deputy Chief of Staff and said that this has great significance and importance.