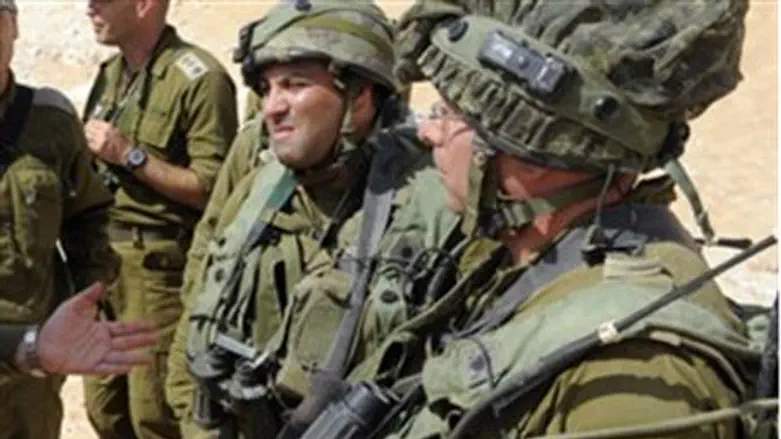 IDF forces
Israel news photo: Flash 90
Three bomb-planting terrorists planning to ambush Israeli soldiers were killed overnight by combined IDF forces in Gaza. 
Around 2:15 this morning, an IDF force noted several terrorists approaching the border fence separating northern Gaza from Israel. In a repeat of dozens, possibly hundreds, of previous incidents in recent years, the terrorists were attempting to plant bombs, hoping to detonate them later against a passing IDF patrol.
The force fired on them – from the air, ground and sea, according to some reports – and later found three bodies at the site. The IDF alerted an Arab medical crew, which arrived and took the bodies to a Gaza hospital.
The IDF noted ominously that the presence of terrorist elements near the border fence is utilized for the placement of bombs and the planning of abductions and attacks against IDF soldiers, and as such, endangers both the citizens of Israel and the security forces.
Terrorists from Gaza have fired Kassam rockets at Israel on at least two occasions in recent days. A week ago, Israeli aircraft attacked a tunnel used to smuggle arms into northern Gaza. In two of the tree targets, explosions followed the Israeli attacks – indicating the presence of explosives and the like. 
Last night's attempted Hamas attack took place in what used to be the Israeli town Dugit – the northernmost Jewish locale in Gaza, which was destroyed along with Gaza's 20 other Jewish towns in the 2005 Disengagement.