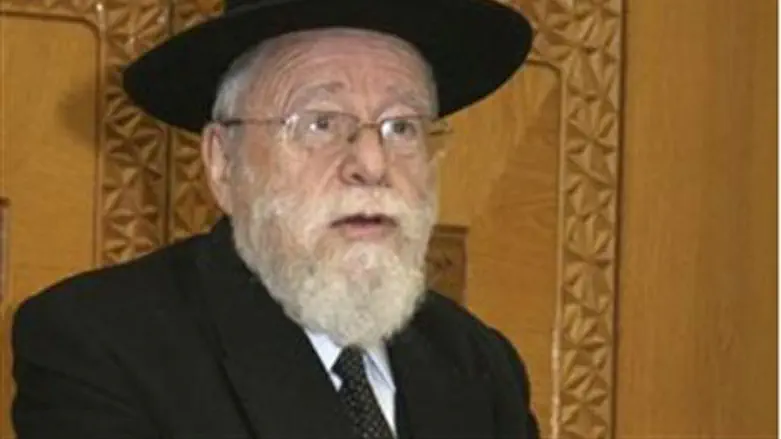 Rabbi Dov Lior
Flash 90
A group of leftists, consisting of intellectuals and Israel Prize laureates have called on the State of Israel to dismiss Rabbi Dov Lior of his public duties due to his refusal to appear for questioning by police over his approbation of the 'Torat Hamelech' book.
The call came on Sunday and it follows last week's arrest warrant which the Israel Police has issued against Rabbi Lior, one of the most prominent Zionist rabbis and halakhic decision makers who serves as the Rabbi of Kiryat Arba in the Hevron district.
The leftists, however, did not end by calling for Rabbi Lior's dismissal. They also called on the State to immediately investigate his involvement in "murders, from the Jewish underground through the Hebron massacre to the murder of Rabin."
The group consists of authors Yehoshua Kenaz and Yehoshua Sobol, architect Hillel Shocken, and radical left  Israel Prize laureates such as David Tartakover, Chaim Adler, Alex Levac, Ram Loevy, Shulamit Aloni, Yehuda Bauer and Micha Ullman.
In the public call they issued, the group alleged that the police systematically avoids investigating Rabbi Lior.
"Although Baruch Goldstein saw Dov Lior as the Torah authority for his actions, and although after the massacre Rabbi Lior stated that Goldstein was 'holier than any Holocaust martyrs,' the Rabbi was never investigated; by the same token, despite the evidence of Rabbi Lior being the main source for judgments regarding Yitzhak Rabin, he was never arrested, not tried at all nor was he seriously questioned on all of these," wrote the group's members.
The group also claims that "Dov Lior gets thousands of shekels each month from the State of Israel for his public duties as rabbi of Kiryat Arba and Hebron, as head of the rabbinical court as well as a larger hesder yeshiva of the IDF. In addition, Lior is head of the council of Rabbis of Judea and Samaria, has many rabbis backing him, and those who are considered 'moderate' are calling on the police not to interrogate him."
The group members are warning that if Israel continues to avoid dismissing Rabbi Lior or investigating his involvement in these "serious delinquencies" as they put it, it would undermine the very foundations of the State.
Rabbi Lior's aides said in response to the call that they are not surprised that the same leftists who are struggling for freedom of expression of terrorists, as well as the right of the law breakers of Bil'in and Na'alin to protest, and of Israeli University Faculty to call for boycotting Israel, are simultaneously coming out against the freedom of expression of one of the greatest men of this generation and are seeking to prevent the words of Torah from being sounded.
"This proves once again the wisdom of the Talmudic maxim that 'anyone who is compassionate towards the cruel, will end up being cruel towards the righteous', " the rabbi's associates said.
MK Dr. Michael Ben-Ari (National Union) said in response: "The Israeli left, who opened a school of incitement against IDF soldiers and commanders on behalf of freedom of expression, wants to shut up one of the greatest men in Israel, Rabbi Dov Lior."
Ben-Ari added that "it would be appropriate for Sobol, who incited against the Jewish residents of Judea and Samaria, to rinse his mouth before he reaches out to sign petitions."
Rabbi Lior has received support from many citizens and public leaders following the arrest warrant. About 1,000 people spontaneously congregated outside his home in Kiryat Arba last Tuesday morning in a show of support.
Rabbi Lior, who addressed the crowd of supporters, said: "If a rabbi is asked on a Torah matter, he is bound to answer, even if it involves a risk. I have no doubt that those who care about the dignity of the nation and the Land of Israel will give voice to Torah opinion even if they are threatened with all kinds of threats. That is why they were chosen - it is not like the politicians."
"We call upon the Prime Minister, who is responsible for everything, to give clear instructions to stop all these stupid persecutions," he added. "I did not hear that they interrogated professors or 'cultural luminaries' and academics from southern Israel who are in league with the haters of Israel - we did not hear that they were questioned. But rabbis who express Torah opinion - they come and investigate them. This needs to be stopped! No threat will deter us from saying the truth and the Word of G-d."
Rabbi Lior is considered by rabbinical authorities to be one of the foremost halakhic luminaries of this generation.