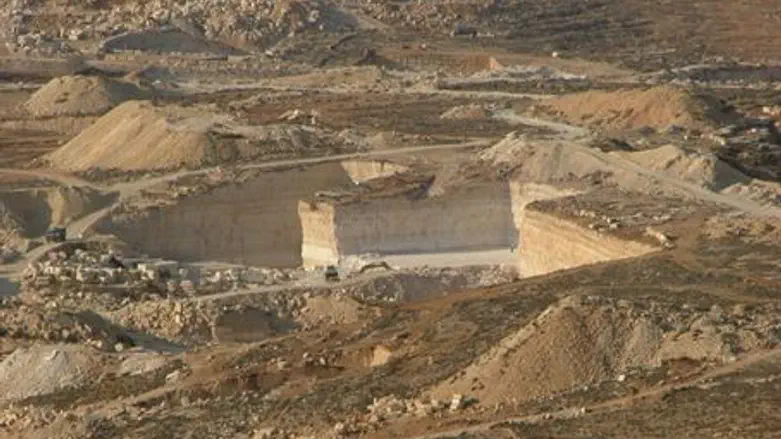 Pirate Arab quarry
Israel news photo: Regavim
In light of a lawsuit by the Regavim lands association, Israel's Civil Administration has announced that a pirate Arab quarry in Gush Etzion has finally been closed.
The Regavim Movement for the Preservation of the Nation's Lands filed suit over four years ago against the quarry, whose operators have gouged down tens of meters deep in many parts of a square-kilometer (250-acre) area near Tekoa in eastern Gush Etzion. The quarry was operated by a gang of several Arab families.
Just four months ago, it did not look like things were going Regavim's way. The Supreme Court all but accepted the State's claims that it did not have the means to stop the illegal quarry, and advised the State to find a way to legalize it. It gave the State four months within which to respond, however.
As it turned out, the State used the four months to good advantage. Following three or four raids in which it confiscated heavy equipment from the quarry operators, the Civil Administration announced: "The enforcement activities that we took have led to a near-total cessation of quarry activity at the site." Among the confiscated equipment were loader tractors, generators, rock saws, compressors, air hammers, train tracks, and more.
Land inspectors from both Regavim and the Gush Etzion Regional Council have confirmed that activity at the quarry has stopped. They acknowledge that they will have to be on the alert to ensure that it does not resume, however.
Following the ruling of four months ago, Regavim responded bitterly, saying, "This proves that crime pays. For four years we have been seeking enforcement of the law on this illegal takeover of state land. After we filed our petition, police confiscated some illegal equipment from the site, but this failed to make the slightest impact on the pockets of these people, who earn tens of millions of shekels from the quarry annually… This is an absurd situation, in which the High Court demands the enforcement of orders to demolish Jewish building in Judea and Samaria even though the construction plans were approved at all levels - while at the same time it refuses to order the State to act against wild and widespread [Arab] violations of the law."
Regavim has now announced: "For over four years, we have been repeatedly asking the law enforcement bodies to stop standing by while state lands are taken over for illegal and environmentally-damaging purposes… We are happy that the quarrying has now finally stopped. However, we will continue to monitor the site and bring about its total closure, the return of the area to its former situation, and to the indictment of the criminals."