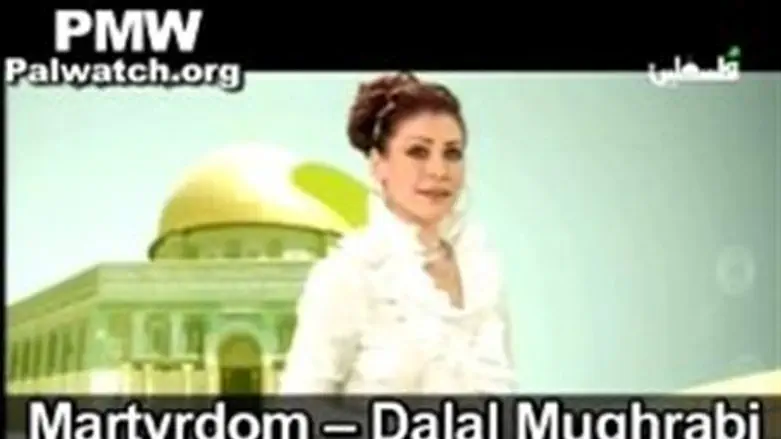 Dalal Mughrabi, PA terrorist in White Hands c
Israel news photo: courtesy of PMW / White Ha
The United Nations has denied supporting a media campaign on women's issues that names blood thirsty female terrorist Dalal Mughrabi as one of the "model women" that Arab women should admire.
The program was broadcast as part of the "White Hands Campaign – the largest media campaign to support women's issues." It was organized by the Arab Producers' Union for TV (APUTV) in cooperation with the United Nations Population Fund (UNFPA), according to a statement accessed February 9 on the English-language website for the campaign.
The site also notes that "APUTV works under the umbrella of the Arab League, and through the Arab Ministers Information Council," and points out that the official headquarters of APUTV are located in Cairo.
UNFPA senior media adviser and spokesperson Abubakar Dungus said in an email statement, however, that the agency never pledged its support for the program as aired. The campaign first approached the agency, he explained to the Jerusalem Post, as a union of journalists in April 2008, asking for help in identifying issues relating to reproductive health that could be featured in a television production on women engaged in humanitarian work.
"We agreed to provide story ideas and public information on maternal health, and nothing beyond the mandate of UNFPA, the United Nations Population Fund," he stated. "We were not consulted or involved in choosing the persons to be featured. So definitely we disavow any program or activity that is not related to our mandate ..."
This is not the first time that Arab television has claimed support from outside sources for its terrorist programming, and in the past has also implied links for PATV programs with children's programs such as Disney's Mickey Mouse.
Entitled The Model Woman, the television campaign was broadcast weekly in November and December 2010 on more than 50 Arab TV stations, including Palestinian Authority TV. According to the website for the program, in fact, it is to be aired eventually on more than 100 TV channels, government and private "and will be accompanied by a grand media campaign to market and promote viewers to watch the program with the marketing support of more than 400 newspaper and magazine." (sic)
Several of the "model women" presented in a video clip translated by the media watchdog organization, Palestinian Media Watch,(PMW) represent models for murder.
Among them was Mughrabi, "famous" for her terrorist attack on Israel's Coastal Road in 1978 that resulted in the bloody murders of dozens of people, including 13 children in what in later years has become known as the Coastal Road massacre. Mughrabi was praised in the program as a role model for "martyrdom" and "victory over enmity."
Another was the Algerian female terrorist Djamila Bouhired, who became a political activist, and was praised as one who exemplified "struggle" and "human freedom."
A third "model woman" venerated in the program was the 7th century Arab poet Al Khansa, who celebrated the deaths of her four sons in battle as martyrdom. Her life was cited as an example of "resolve" and "martyrdom and giving."
"Women are essential partners and important actors for the development of society," states the website, adding that one of the objectives of the campaign is "to bring about distinguished women samples that have offered great services to society."
The women cited in the program, state the producers, are featured "in order for [Arab women] to take an inspirational course for generations to come… they are great models to be followed by the old or the young, these women can be the working farmers, the teachers, the doctors, the engineers, the scientists, the lawyers, the activists in all fields whether social or political; they are the ones to sacrifice, and in all of their cases, they are the mothers!"