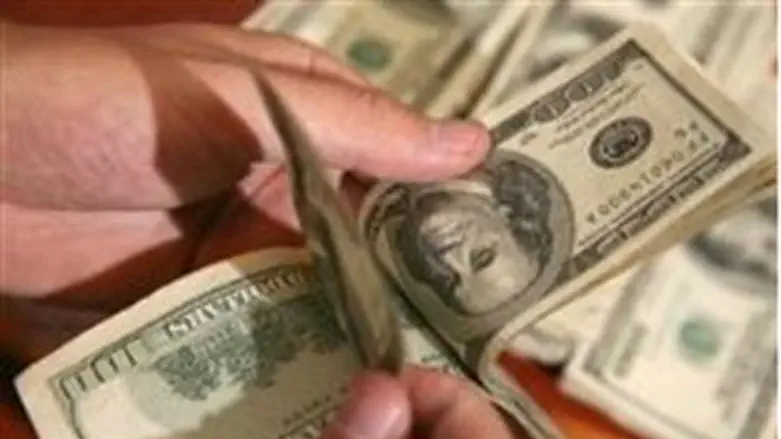 Israel news photo: Flash 90
The price of gas will jump tonight to its highest shekel rate ever, and the dollar continues to soar, gaining nearly 5.5 percent in the past two weeks.
The dollar's representative rate is 3.68 NIS (shekels), the highest it's been in precisely two months. It is trading this morning with another 1.2 percent gain, at 3.723, the highest since mid-September 2010.
The Euro has also reached a watershed level, trading at 5.08 shekels – the highest since early November.
Economists foresee continued weakening of the shekel in the coming days, even without considering the effects of the unrest in neighboring Egypt, which could lead to further retreats by foreign investors.
Tonight, for the sixth time in a row, the monthly adjustment of gas prices will see an increase – bringing octane-95 gas to an all-time high of 7.26 shekels. Tonight's 12-agorot-per-liter climb, taken together with last month's 43-agorot jump, gives a total increase of 8.2 percent in the past 4.5 weeks. Over the past half-year, the price of gasoline has risen 13.3%.
In Eilat, where there is no VAT (16% Value Added Tax), octane-95 gas will cost 6.27 shekels per liter.
Israel's gas prices are determined by the National Infrastructures Ministry in accordance with several factors, primarily the price of oil around the world, which has risen to $89.3. The special gasoline tax – not including VAT - comprises roughly 40 percent of the final price. The price also takes the companies' distribution and other costs into account.
A special report published last week by the Knesset Research Department shows that Israelis pay nearly 25 percent more for their gas than Western Europeans. The average price in 15 Western European countries was 1.15 Euros per liter in December 2010, compared with 1.41 in Israel. Israelis also pay more per liter for marketing, and well more for gas taxes.