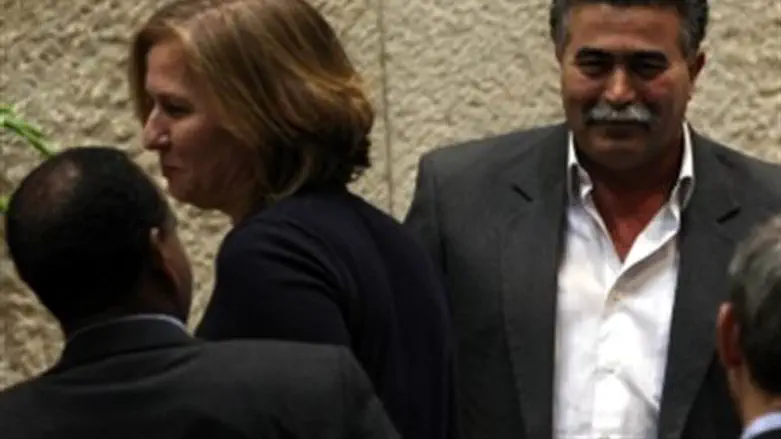 MKs Livni (Kadima) and Peretz (Labor), 25.1.1
Israel news photo: Flash 90
The Kadima and Labor factions announced Wednesday they would not take part in the Knesset committees that are being formed in order to inspect the foreign sources of funding for non-governmental organizations (NGOs) and for land buy-ups by hostile elements.
"In a democratic state," wrote Kadima's leading representative in the House Committee, MK Shlomo Mula, "politicians must not investigate citizens." While Kadima does not agree with all of the activities of the groups being examined, he explained, "we think that the establishment of the committees of inquiry marks a new low point in the annals of the Knesset, making cynical use of parliamentary means for political persecution."
"The establishment of the committee is a dangerous and clearly anti-democratic deed that damages the foundations of the state of Israel as a Jewish and democratic country," Mula warned.
Sharp reaction by Coalition
Prominent Knesset members from the Coalition reacted sharply to the decision by Kadima and Labor. "I am glad that Kadima's hypocrisy has been exposed today," Coalition Chairman MK Ze'ev Elkin (Likud) said. "After members of the party supported the establishment of a parliamentary committee of inquiry, Tzipi Livni chose to muzzle [them] and not to allow the sane voice of the party to be heard and take part in the committee. There is no doubt that this is additional proof that Kadima is a party without an agenda."
MK Danny Danon (Likud), who is to head the committee on hostile land purchases, stated: "I am not surprised that a party whose members decided to divide Jerusalem and evict tens of thousands of Jewish residents refuses to cooperate with the investigation of foreign governments that harm the nation of Israel."
The second committee, which will focus on so-called "human rights" organizations that allegedly receive cash through terror-related funds, is to be headed by MK Faina Kirshenbaum (Israel is Our Home).