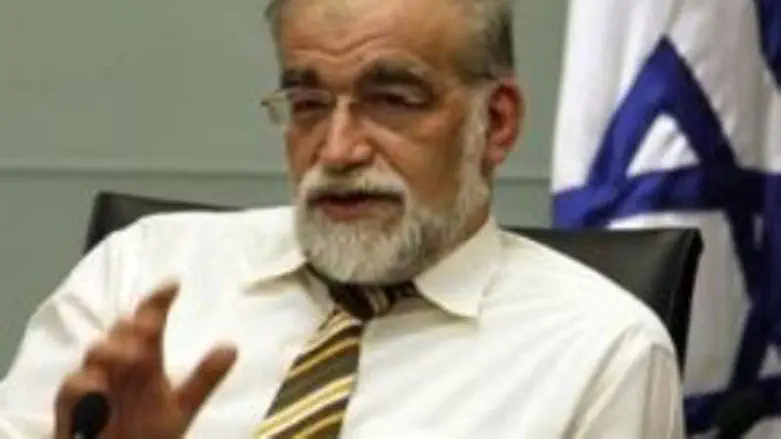 MK Rotem
Flash 90
Talk about timing: As another member of the Netanyahu administration makes a far-reaching proposal for a solution to the Middle East conflict,  the Palestinian Authority once again demonstrated how inflexible they are in terms of negotiating with Israel, says MK David Rotem of Yisrael Beiteinu.
With the release of documents by Al-Jazeera purporting to show how the PA strived not to pass its "red lines" during negotiations with then Prime Ministers Ehud Olmert and Tsipi Livni, Rotem told Israel National News that "what interests me are our red lines, not theirs."

According to reports in the Israeli media, Foreign Minister Avigdor Lieberman has drawn up a map that would create a temporary PA state in about of half of Judea and Samaria. A later report said that Lieberman had drawn up the map in response to an appeal by Prime Minister Binyamin Netanyahu for members of his administration to come up with ideas on breaking the deadlock between Israel and the PA. The Lieberman plan, as reported in the press, was apparently a response to that appeal.
The New York Times this week  got on the bandwagon as well and published the "Palestinain Map" of  an American think tank. The group,  headed by David Makovsky, termed a "scholar trying to break the logjam"  by the MY Times reporter, came out with another plan, disengenuosly calling his proposal that Israel cede Hevron and 95% of post 1967 land "achievable'  and published as a way to stimulate thinking.
Whatever the genesis of the map, says Rotem, the party's positions on any settlement – temporary or final – have not changed. "Peace for territory is a concept that has proven its failure over and over again, and we cannot fall into that trap again," said Rotem. "Our objective in any negotiations must be preserving the Jewish character of the Israel. If we do not, we are going to have a major problem in 20 years." Whatever the arrangement, it must include a territory exchange that will place the majority of Israel's Arabs in the PA state, while ensuring Israeli control of parts of Judea and Samaria where Jews live.

While the Al-Jazeera documents fussed over the PA's trying to figure out what its "red lines" were – the point where it would no longer concede – Rotem repeated that Israel would do better to worry about its own red lines. "Jerusalem is a red line for us, nor for them; the city cannot be divided in any way. No negotiations on Jerusalem, no return of refugees, and no land for peace; these must be our red lines." Whatever ideas Foreign Minister Lieberman or any other government official comes up with, they must include these red lines, Rotem added. "I haven't seen the Foreign Minister's maps, but I can assure you that his ideas hew to these principles. Israel's red lines were definitely taken into account."