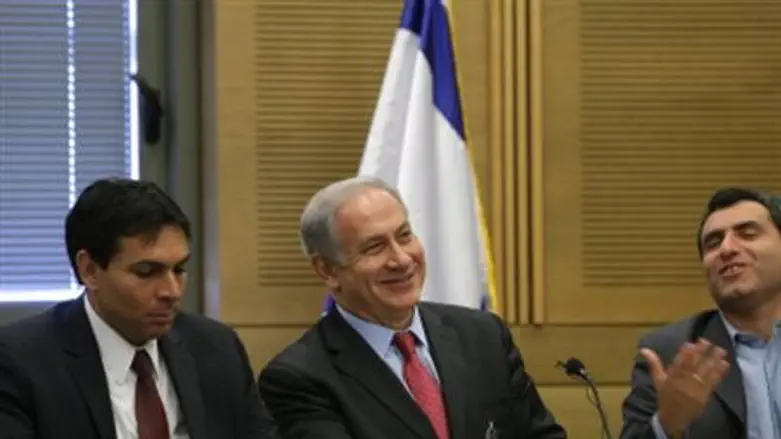 Danon, Netanyahu, Elkin (file)
Israel news photo: Flash 90
The Likud Knesset faction voted Monday to support the establishment of a parliamentary committee of inquiry to be headed by MK Danny Danon, to look into the funding of ultra-leftist organizations operating within Israel. The Likud ministers and MKs whom Foreign Minister Avigdor Lieberman recently derided as "feinshmekers" - Yiddish for finicky snobs - failed to block the move.
The committee will check the involvement of foreign governments and bodies in funding organizations that operate against the state of Israel and that engage in organized land purchases within Israel.
The Likud faction further buttressed this decision by voting not to give MKs freedom to vote as they choose, but to impose faction discipline in the vote. The entire faction is expected to vote in favor of the committee.
"The Likud movement stood up for its principles," Danon said after the stormy debate. "Bank accounts that compensate 'martyrs' and give cash to leftist groups will be closed down immediately." 
The 'feinshmekers' - ministers Dan Meridor and Benny Begin, as well as Knesset Speaker Reuven Rivlin and MK Michael Eitan - spoke and voted against the measure, but were in a minority. 
Prime Minister Binyamin Netanyahu, Deputy Prime Minister Moshe Yaalon and MKs Danon, Tzipi Hotovely, Ze'ev Elkin and Miri Regev supported the move.  
The 'feinshmeker faction' is mostly made up of veteran Likud members who grew up in the ranks of the movement before the Netanyahu era.