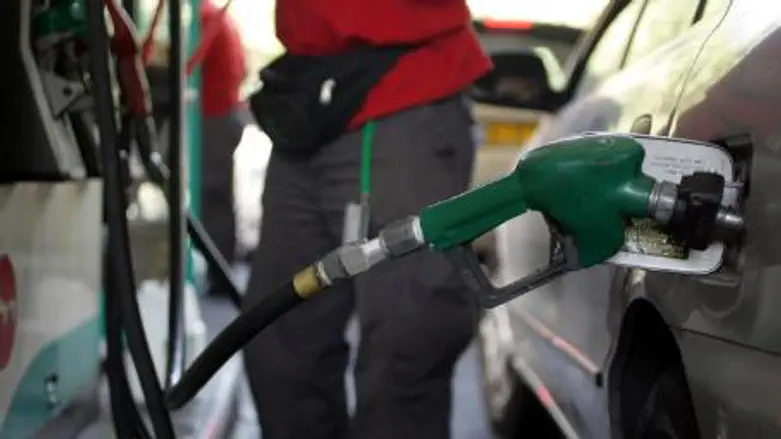 Pumping gasoline
Israel news photo: Flash 90
The Cabinet withstood intense corporate lobbying Sunday and approved a sharp hike in royalties that energy firms will pay the government for pumping resources from gas and oil fields. The vote was 21-5.
The Cabinet decision, which now goes to the Knesset, represented an important victory for Finance Minister Yuval Steinitz, who angered energy exploration companies by accepting a committee's recommendations to raise the government's share of income from oil and gas fields.
"Today the government will put an end to the disgrace in which the citizens of Israel do not benefit from the country's natural resources, as do the citizens of other developed nations," the Finance Minister said after the vote.
The Cabinet accepted the proposal submitted by a government-appointed committee headed by Eitan Sheshinski, which recommended nearly doubling the government's share from oil and gas revenue from one-third to between 50 and 62 percent.
The Bank of Israel backed the committee's recommendations. Deputy Governor of the Bank of Israel Professor Tzvi Eckstein explained that the royalty structure "will leave high profits for the investors, which will contribute to the development of the industry and the whole economy."
The corporations, most notably US-based Nobel Energy and Israel's Delek Co., argued that it was unfair to raise their financial obligations years after they invested hundreds of millions of dollars to explore potential energy fields in Israel.
The idea of changing the tax structure was raised after last year's discoveries of massive oil and gas reserves off Israel's Mediterranean Cost. It is estimated that the gas in the Tamar and Leviathan fields will make Israel self-sufficient and even allow it to become an exporter of gas, a situation that previously only was a pipe dream of Israelis. Oil reserves are located below the gas field, but it is not yet known what amount can be pumped.
Kadima Opposition leader Tzipi Livni sided with the coalition government in the Cabinet vote. Five Yisrael Beiteinu (Israel Is Our Home) ministers voted against the change in royalties. Shas voted for the proposal but warned that it may switch its position when the Knesset votes on the issue, depending on where the extra money will be allocated. Prime Minister Binyamin Netanyahu  said that he will use the extra income for education and security.
Sheshinski, who has received death threat letters, criticized Knesset Members who announced their opposition to his recommendations before they read his report. "Tycoons were free to approach MKs and participate in committee meetings, where we could not respond. The timing was very flawed. We were prevented from responding until we submitted the report. Why couldn't they wait until the report was published," Prof. Sheshinski said.
Nobel previously has threatened to pull out it Israeli operations if the hike in royalties is approved.