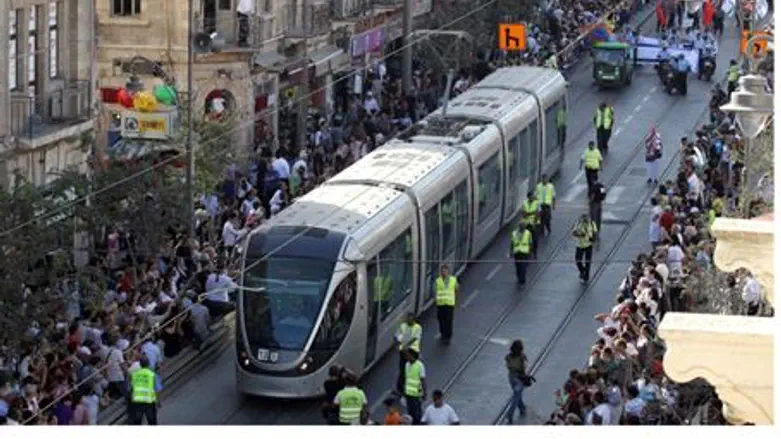 The light rail made its trial run down Jaffa
Israel news photo: Flash 90
This weekend, the main street in Israel's capital city will bid farewell to vehicular traffic and take on the official status of a pedestrian walkway.
Jaffa Road was constructed 150 years ago during the reign of the Ottoman Turks and so named because it  then led travellers out of the city to where the road to Jaffa port began and vice versa. It, runs from the Old City''s Jaffa Gate through the center of Jerusalem to the Central Bus Station  and the main intercity highway to Tel Aviv-Jaffa. There is not an inch of space along its length without a commercial establishment, many of which serve the millions of tourists who pass through the capital each year.
In the 2003 photo below, pedestrians cross at one of the largest four-way intersections in downtown Jerusalem, Jaffa Road, bisecting King George Street to the left and Strauss Street opposite. (Israel news photo: Flash 90)  
For the next four months, until the Jerusalem Light Rail project is completed, "Bus 11" – Israeli slang for a person's two legs – will be the only means of transportation on the road. The sole light rail line, which will run from Pisgat Ze'ev, through the city center via Jaffa Road to Mount Herzl, is not expected to make its debut until April.
Mayor Nir Barkat is hoping that four months of free rides for residents – the light rail will begin charging fares in August -- will ease the rage that is swelling among vendors, consumers and anyone else who is used to working and traveling on Jaffa Road.
It's not at all certain that his plan will be a success, however, because that's not all.
Due to the changes along Jaffa Road, traffic patterns on the two parallel streets – Rehov Agrippas, behind the Mahane Yehuda open-air market and which runs along the newly gentrified Nachlaot neighborhood, and Rehov Neviim, which runs along the super hareidi religious Geula neighborhood on the other side – are also going to be changed.
Effective January 15, buses will be the only vehicles allowed to run on Agrippas Street, a one-way street, which will pick up the overflow from the hundreds of buses no longer allowed to run on Jaffa Street.
Rehov Neviim, a two-lane road, will remain open to two-way traffic,  private vehicles as well as buses and taxis. In fact, effective this weekend it is the only two-way thoroughfare in the downtown area running parallel to Jaffa Road.
The road is also close to three insular, crowded hareidi religious neighborhoods that feature countless alleys and tiny little side streets that to the uninitiated driver seem to lead nowhere – and in fact sometimes do.
"Neviim is wide enough for two horses and wagons, approximately," observed a Jerusalemite who asked not to be identified. "Agrippas will only have buses. No trains for another four months at least? Shopkeepers are aghast."
Rachel S. told Israel National News that she believes the new pattern will just make a bad situation worse.
"Traffic is a nightmare even on a good day as it is," she said. "This will increase it exponentially – all the taxi drivers who cannot use Jaffa Road and all the private cars who get confused or need to get somewhere and can't will all end up on Neviim instead. Wait until Purim."
Residents in Nachlaot, meanwhile, noted that up to a thousand buses a day will run along the two-lane Agrippas Street, which is embraced by the market on one side and lovely old stone buildings on the other.
Narrow sidewalks on either side of the street offer barely enough room for two people to walk side by side.
"I'm predicting a disaster since they plan on putting almost every bus line on Agrippas," said Jerusalemite David Yehoshua Barrocas.
"This morning coming home from work I already saw the police and some Egged people directing one of the buses because the driver went the wrong direction on Agrippas," he told Israel National News.
"Yafo I can handle," commented public relations maven Stuart Schnee. "But Agrippas??"