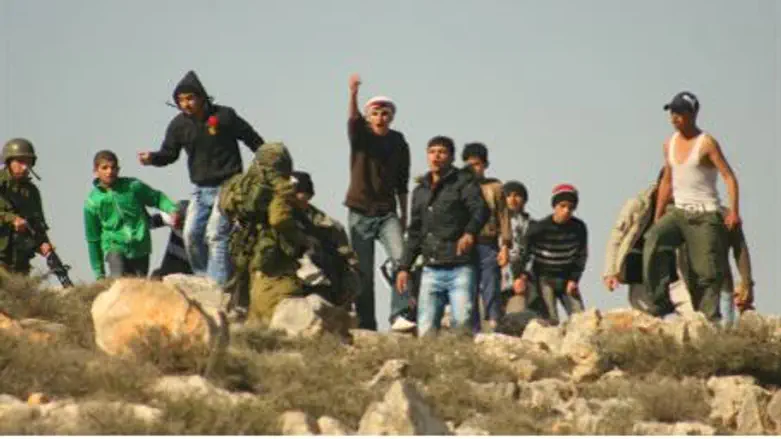 Arabs mob soldiers
Council of Binyamin and Samaria residents
Hundreds of violent Arabs mobbed a small IDF force and Jewish residents Thursday morning on a hilltop near Keida, a community east of Shiloh, in biblical Samaria. Local Jews said that the Arab assault on the hilltop began Tuesday, after the IDF evicted a group of Jews who had established an outpost there. 
Eitan Meir of Keida told Arutz Sheva that the Arabs wanted to tear down all remnants of the Jewish outpost:
"An initial group of about 50 Arabs from the nearby village arrived at the spot at about 11:00 A.M. and tried to access the hilltop. Our people chased off the first group but after a short while they came back with 400 to 500 of their friends [see photos below -ed.], and started to attack everyone who was present - IDF soldiers, hilltop residents and the rapid response teams that had been alerted."
"The Arabs came armed with clubs and threw rocks and everything they could get their hands on at the soldiers. Two of our men were injured and were evacuated to receive treatment. A soldier was also wounded in the knee but was not evacuated."
Meir said angrily that the soldiers had received orders that made it impossible for them to take effective action against the attackers. "The IDF soldiers stood there with their hands tied, with no ability to respond properly. They fired in the air in a way that did not even tickle the marauders, who kept on attacking the soldiers."
Meir said that after the attackers finally dispersed, soldiers told him that they felt they had been "shamed in their uniforms." 
The Arabs were accompanied by at least one leftist sympathizer from one of the groups that routinely files complaints against IDF soldiers. These group came under fire in
the latest report
by grassroots student group Im Tirtzu, which found that they receive their money through terror-tainted Arab funds.  
Photos: Council of Binyamin and Samaria Residents