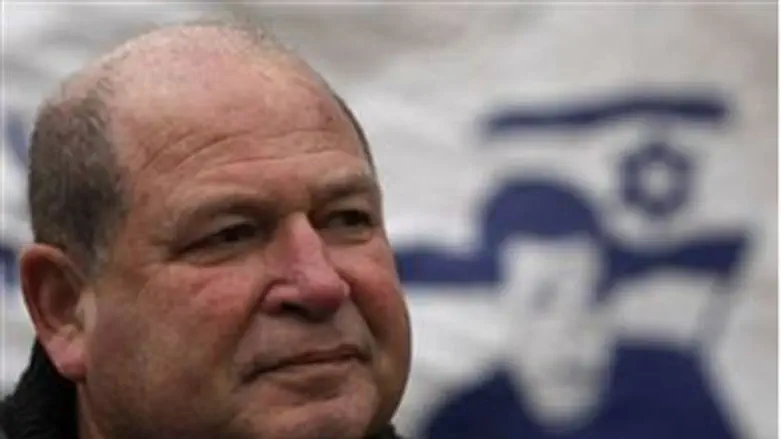 Yoel Marshak
Flash 90
Yoel Marshak, head of the kibbutz movement, is planning to go to Gaza on Tuesday with an Arab delegation and meet with Hamas leaders. He plans to ask Hamas to release kidnapped Israeli soldier Gilad Shalit. Marshak will be the only Jew in the 28-man delegation.

Hamas believes that all Israeli Jews are legitimate targets for murder.

Marshak, however, told Arutz Sheva's Hebrew-language news service that he is not overly concerned. "We have good ties," he said of his relationship with Hamas.

According to the kibbutz leader, he won the Islamic terrorist group's respect with his kind treatment of 15 children of Hamas terrorists. The children, whose fathers were killed fighting Israel, were given a tour of Israel at Marshak's initiative.

Tuesday's trip to Gaza was organized by Mahmoud A-Zahar, a former Hamas spokesman who has called to murder Israeli children and says his goal is for Islamic fundamentalism to rule the world.

Being a Tool of Hamas 'Better Than the Alternative'
Marshak admitted that the Hamas-organized trip may be part of a plan to pressure Prime Minister Binyamin Netanyahu to accept Hamas' terms for Shalit's release. However, he said, the risk of being used by Hamas is better than the alternative.

"The alternative is one big nothing. Nothing is happening," he said. "What could be wrong about one citizen going there and touching a few hearts?"

He had harsh words for Netanyahu for refusing previous Hamas demands. Netanyahu has expressed willingness to release some Hamas terrorists in exchange for Shalit's freedom, however, he has rejected the demand that Israel release more than 1,000 convicted terrorists, including many who committed murder.

Marshak said European go-betweens were frustrated by Netanyahu's stance regarding Hamas.

When reminded that even left-wing leaders have traditionally refused terrorist demands – for example, former Prime Minister Yitzchak Rabin refused to free senior Hamas terrorists to free kidnapped soldier Nachshon Waxman – Marshak criticized Netanyahu for meeting with the Shalit family only infrequently. Rabin met regularly with families of kidnapped soldiers, even when he had nothing new to tell them, he said.

Marshak's Checkered Past
Marshak has long been active on the political left. He has previously pressured the Israel Prisons Service to allow Hamas prisoners to receive presents from Gaza and has offered to host foreign children staying illegally in Israel. He has been accused by residents of Samaria of involvement in an attempt to frame Samaria Jews for damage to water supply to an Arab village.

However, he has taken rare steps to reach out to traditionally Zionist Israelis as well, by assisting Gaza farmers during the Disengagement, and by bringing together youths from Samaria and kibbutzim.