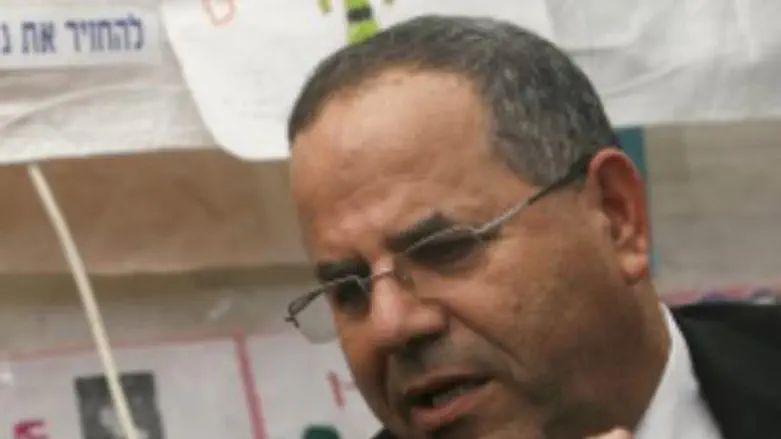 Ayoub Kara
Israel news photo: Flash 90

While Prime Minister Binyamin Netanyahu has called on the United States to free Jonathan Pollard – the first time in 25 years that Israel had made such a direct bid for Pollard's freedom – Israel continues to neglect a young man facing a similar fate, says Deputy Minister Ayoub Kara of Likud.

Kara called Wednesday for Netanyahu to take action to free Ouda Tarabin, a 29-year-old Israeli Bedouin man who has spent the past 10 years in prison in Egypt for allegedly spying for Israel. "Ouda Tarabin is like Jonathan Pollard; both are in prison for spying, and the state has an obligation to free both," Kara said.

His call for Tarabin's freedom was issued shortly before Netanyahu left for a meeting in Sharm El-Sheikh with Egyptian President Hosni Mubarak.

Tarabin's mother Harba asked Netanyahu to give Mubarak a letter she wrote detailing her family's suffering in Ouda's absence. The family has not known peace since Ouda was arrested, she said. His brother Eid wishes to marry, she continued, but refuses to hold the wedding without Ouda.

Now is a good time to ask for Tarabin's freedom, Kara believes. "These days, Egypt is asking Israel to take 'confidence-building steps' vis-a-vis the Palestinians. This is the time for us to ask for a confidence-building step: the release of Tarabin," he stated.

Tarabin is a member of the Tarabin tribe, which is spread throughout the Negev and Sinai. He was arrested after sneaking across the border in an attempt to visit a married sister who lives in Sinai, and accused of being an Israeli spy. His father Soliman, who once lived in the Sinai, was sentenced in absentia to 25 years in prison for spying for Israel.

His family has tried unsuccessfully to obtain a copy of the transcript of his trial, and suspects that there was no trial.

The Tarabin tribe is one of the largest Bedouin clans in Sinai. Leaders of the tribe recently announced that they plan to oppose illegal African immigration to Israel, and will refuse to allow Bedouin smugglers to use their land to bring migrants over the Israeli border.