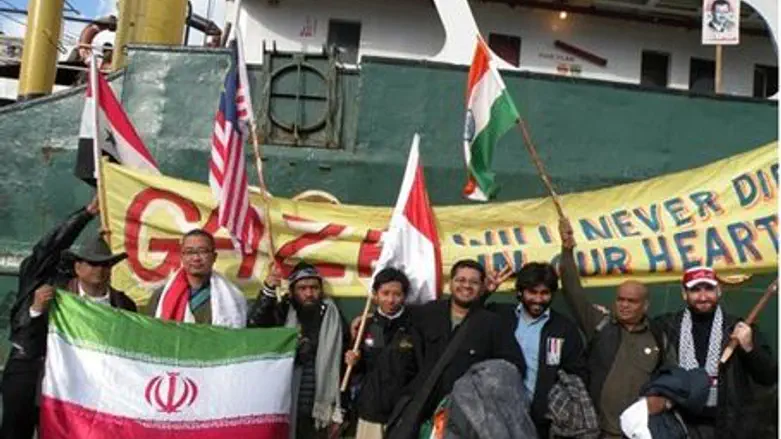 Asian ship arrives in Gaza
Israel news photo: a.muth krishnan, Asia One
An Israeli helicopter and navy ships followed an Asian convoy ship until it passed the Gaza coast and docked in Egypt Sunday night, which barred Iranians from entering Gaza. Pro-Hamas activists entered Gaza through Rafiah.
The long-stalled Asian convoy to Gaza left the Syrian part of Latakia Saturday and reached its destination by land early Monday morning after being tracked on the high seas by an Israeli helicopter and navy ships until it passed the Gaza coast and landed at El Arish, Egypt.
Navy officers reportedly questioned the captain en route but did not try to prevent the ship from continuing en route to Egypt. Previous attempts by activists to challenge the Israeli maritime embargo no Gaza have been met by navy ships, which steered them to Israeli ports.
Egyptian authorities barred Iranians, including several legislators, from joining the pro-Hamas activists who reached Gaza overland through the border city of Rafiah. Only eight people were on board the ship after Egypt continued to refuse to grant permits to the Iranians and several Jordanians to reach Gaza. More than 100 would-be passengers flew in from Syria.
One passenger reported that five Israeli navy ships were following the ship, which had intended to leave Syria a month ago in order to reach Gaza last week to mark the second anniversary of the beginning of Israel's counterterrorist Operation Cast Lead campaign.
Most of the activists are from India but also include nationals from Iran, Japan, Indonesia, Pakistan, Malaysia, Kuwait and eight other countries. The convoy began in India and picked up participants from Iran, Lebanon and Syria, all declared enemies of Israel, and Turkey.
The convoy carried what it called humanitarian aid. However, all of the items on board are permitted to reach Gaza overland through regular Gaza crossings. Israel has always allowed enough goods to enter Gaza, where markets and restaurants are thriving, and eased its embargo against Hamas-controlled Gaza even more over three months ago  except for weapons and items that can be used for terrorist activities.