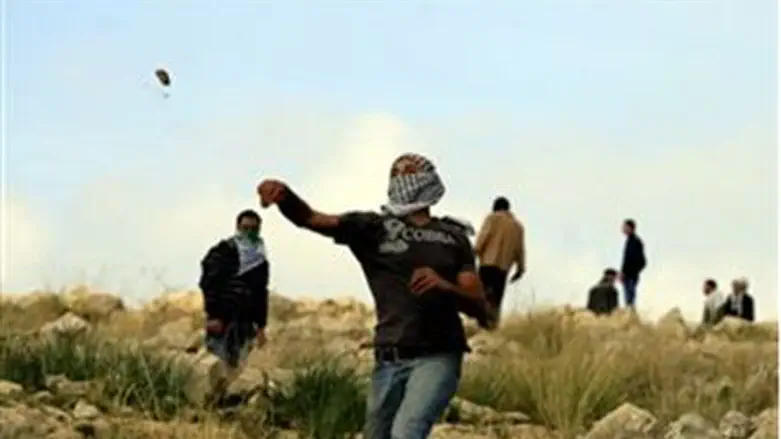 PA Arab rock thrower
Israel news photo: Flash 90
Palestinian Authority Arabs continue to attack Jews in the western Negev and on Judea and Samaria roads, as thousands of tons of humanitarian aid supplies are delivered daily to Gaza.
In Judea and Samaria, PA Arab attackers are continuing to hurl rocks at Israeli vehicles traveling through Judea and Samaria.
PA Arabs attacked drivers near two Jewish communities Thursday afternoon, hurling large, sharp-edged rocks at their vehicles.
Jewish drivers were targeted near the western Samaria community of Alei Zahav, and in the mixed Jewish-Arab city of Hevron.
No one was injured, but the vehicles were damaged in the attacks. IDF soldiers were ordered to search the area.
Humanitarian Aid Deliveries to Gaza Continue
While PA terrorists continue to launch rocket and mortar attacks on southern Israeli communities, hundreds of truckloads of supplies are being delivered daily to Gaza.
Last week 910 truckloads (22,167 tons) of supplies, including 180 truckloads of construction materials were delivered through the land crossings into the region, according to the IDF Coordinator of Government Activities in the Territories (CoGAT).
General merchandise, fuel supplies and foodstuffs are delivered in daily deliveries through the Kerem Shalom and Karni Crossings.
On Wednesday, 272 truckloads of goods, fuel and merchandise made their way into the region, just a day after a short-range Kassam rocket was fired from Gaza at Kibbutz Zikim.
The rocket exploded next to a kindergarten just as dozens of parents were dropping of their children at school. A 14-year-old girl was wounded in the blast, and several others suffered traumatic shock.
Earlier in the week, seven missiles were fired from the region at southern Israeli communities.