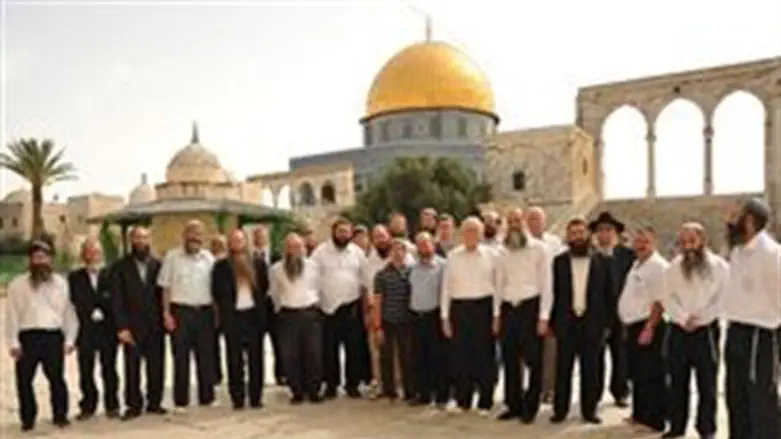 Rabbis on Temple Mount
Haggai Srarah
State Comptroller Michal Lindenstrauss has prepared a report on Israel's approach to Waqf excavations on the Temple Mount and on Israeli sovereignty there in general. Only a small portion will be made public, at a date of the Comptroller's choosing.
A subcommittee of the Knesset Control Committee, named the Audit Committee of the Security Establishment re: Foreign Affairs, has reviewed the report and determined which sections can be published. Subcommittee chairman MK Otniel Shneller (Kadima), a religious Jew who lives in Samaria, discussed the issue on Arutz Sheva's newsmagazine.
The facts are straightforward, Shneller said: "As of a few months ago, the Islamic Waqf [the religious Islamic body that oversees the Temple Mount – ed.] conducted a dig at the Solomon's Stables area of the Temple Mount, in the south-eastern part of the Mount. It removed truckloads of dirt in order to build a large mosque there, causing mortal harm to historic remnants of the Jewish People. This mosque now functions today."
The Temple Mount, the location of the two Holy Temples, is Judaism's holiest site, and is considered Islam's third-holiest site.
Shneller: Situation Has Totally Changed for the Better
"A week ago," Shneller said, "our committee approved a very few parts of the report for publication. It is a very sensitive issue, so I will just review here what will be made public: A report on the large digs at Solomon's Stables, and maintenance work under the Al-Aqsa mosque, and the like. The report mainly deals with how we, Israel, actualize our sovereignty on the Temple Mount. It notes the problems, what can be done, and what has been done. And the conclusion is as follows: Many improvements have been made over the past few months, and everything is now done there in full coordination with the police, the Israel Israel Antiquities Authority, the Attorney-General's office, the relevant ministerial committee, and the Jerusalem municipality. The  situation has totally changed."
Arutz Sheva's Shimon Cohen said, "What you're saying is that the public will never learn what all the problems were, but we should rest assured that everything is now OK."
Shneller did not deny this, but said, "The issue is tremendously sensitive. Other countries such as Jordan and Morocco are also involved; we want to make sure that we don't lose our hold on the Temple Mount. We don't want to make grand declarations and then lose on the ground."
Cohen said, "For instance, the new mosque at Solomon's Stables- what about the very fact that there is another mosque on the Temple Mount, and Muslims come to pray there regularly in massive numbers? Is that something that should be allowed to continue?"
Shneller responded, "The report does not deal with prayer arrangements on the Temple Mount. I can just say that there are currently no digs taking place at all there, but rather only very defined and approved maintenance works."