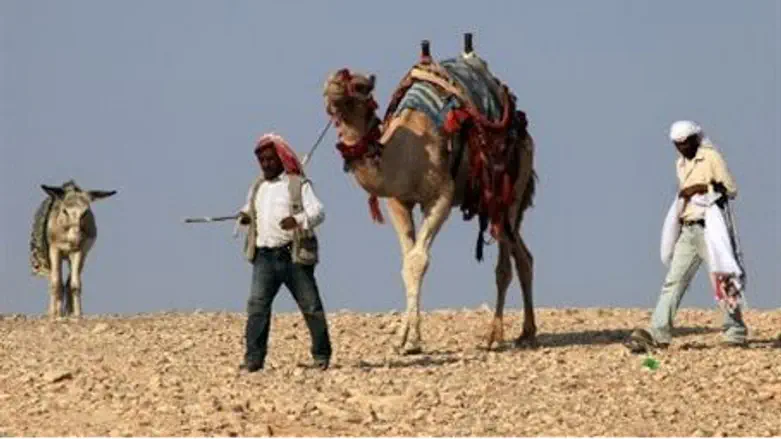 Bedouin roam the desert
Israel news photo: Flash 90
Two hundred and fifty Eritrean and Sudanese migrants are waiting for the right moment to cross over Egypt's border with Israel, Egyptian paper AlMasri AlYoum reported Tuesday. They are currently with traffickers in the Sinai desert, an Egyptian security source said.
While the report does not indicate the ethnicity of the traffickers, it can safely be assumed that they are local Bedouins.
The source said the information was divulged by five Eritreans who were interrogated after they were caught attempting to cross the Israeli border.
The United Nations High Commission for Refugees (UNHCR) on Tuesday urged Egypt to release the infiltrators. UNHCR says the migrants have been under traffickers' custody in a mountainous area near the Egyptian-Israeli border.
The UN group claimed the migrants are being kept in 'containers' and that traffickers are "harassing" them and demanding a ransom of $8000 from each person's relatives in order to release them. The term 'containers' may refer to metal shipping containers. 
Egyptian Foreign Minister Ahmed Abul Gheit said on Saturday that Egypt had no knowledge of the kidnapping of migrants in Sinai. He said that the Ministry of Interior also has "no clue" about the reports.
If true, the report could be seen as a throwback to the centuries-long Arab tradition of trading in African slaves, which is believed to have begun in the 8th century and continued into the 19th. Arabs settled along the African coast of the Indian Ocean and traded in slaves and ivory. They married local women, thus giving rise to the Swahili tribe, whose language - a mixture of Arabic and the local Bantu language - became the lingua franca of East Africa.