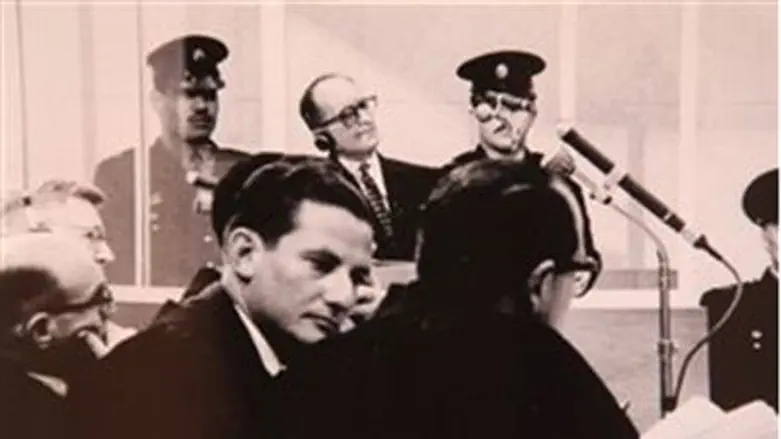 The Eichmann trial
Flash 90
In a dramatic meeting, two major players in the trial of Nazi war criminal Adolf Eichmann came together Tuesday night at the Michlala, theJerusalem College for Women. The evening, held at the college's Holocaust Center,  was planned  to mark 50 years since the 1961 trial that aroused international interest and brought the Nazi atrocities home to millions who sat glued to their television sets watching the emotional testimony of victims and the stony-faced murderer who had carried out his instructions to perfection.
Through an interesting contrast that put a seasoned legal expert, Former Supreme Court Justice Gabriel Bach, who prosecuted Eichmann, and a  victim, Yosef Kleinman,  the youngest witness to testify, on the podium, the audience was able to relive the trial.
Kleinmann testified again – this time, for the historic record. Both Kleinmann and Bach spoke of their experiences during the trial. Bach spoke about what took place "behind the scenes" at the trial and about the most dramatic points of the trial. He also shared feelingly with the audience  the influence the trial had on him personally.
Another speaker at the event was Rabbanit Esther Faberstein, head of the  Center, educator and author of the two volume Hidden in Thunder, containing her groundbreaking research into Holocaust history from a religious and hareidi-religious perspective. She discussed Jewish identity as reflected by witness testimony at the Eichmann trial, and its value in education today.
Researcher Dr. Mali Eizenberg discussed the Eichmann trial as part of Israeli history, and the ways in which it changed the Israeli perspective on the Holocaust.
Eichmann, known as the Architect of the Final Solution,  was a captain in the SS when the Holocaust began, and he was in charge of deporting Jews to death camps. He escaped U.S. custody after the war and fled to Argentina, where he was nabbed in a daring operation by the Mossad in 1960 after years of searching for him.
He was taken to Israel, where he was tried, convicted, and sentenced to death. Eichmann was executed in Israel in 1962, the only death sentence ever handed down by the state of Israel.     
This week is the Israeli Rabbinate-deisgnated Holocaust Memorial Day, marked on the tenth day of the Hebrew month of Tevet that begins before dawn Friday and ends at sundown.       This  This fast day, originally marking the start of the seige of Jerusalem by Nebuchadnezzar, king of Babylon whose forces destroyed the first Holy Temple,  serves as the memorial day for Holocaust victims whose date of death is not known. Kaddish and other traditional Jewish prayers for the deceased are said on this day. The national memorial date is the 27th of Nissan, commemmorating the Warsaw Ghetto uprising, but set by the Knesset during the month of Passover, a period when halakha prohibits eulogies.