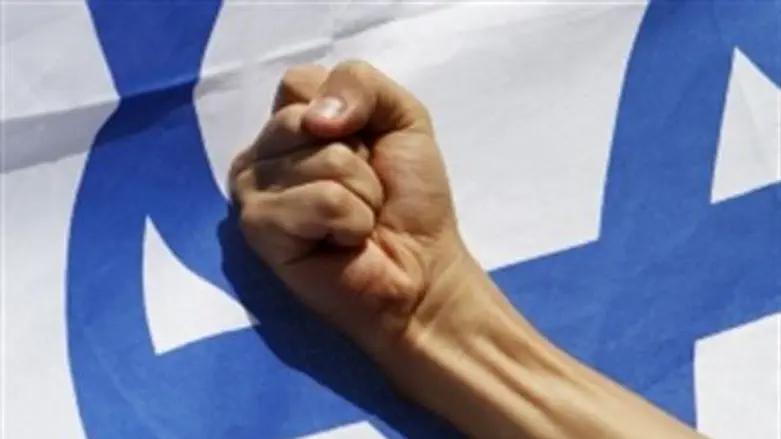 Nationalist protest (file)
Flash 90
Under the slogan "Jews Have Human Rights Too," nationalist and patriotic groups spearheaded by grassroots students' group Im Tirtzu are set to join the annual human rights march Friday – an event monopolized by leftists until now.
"Surprising as it may sound," an Im Tirtzu statement wryly declared, "reservists, residents of Sderot, agriculturalists in the Negev and Galilee, IDF soldiers, settlers, hareidi Jews, residents of southern Tel Aviv, Arad and the HaTikva neighborhood – all of these people also have human rights!"
The nationalists will gather at 10:00 AM at the corner of Rothschild Ave. and Hashmonaim Street and will join the march when it sets off from HaBimah toward Rabin Square. Participants are requested to bring Israel flags, funny hats, trumpets and "good moods," Im Tirtzu said.
The Director of the Association for Civil Rights in Israel, Haggai Elad, expressed surprise that Im Tirtzu wished to join a march that will be addressed by Naomi Chazan, President of the New Israel Fund. Im Tirtzu launched an aggressive campaign targeting Chazan and the NIF in February.
Among the groups to be represented in the nationalist section of the march are Regavim, Yisrael Sheli, The Sderot Security Action Group, Likud Youth, Shurat HaDin, the Professors' Circle, Yisrael Beiteinu Youth, Zionist Women's Forum, the Action Group Against Infliltrators and Illegal Migrants, Arad Municipal Action Council, Cattle Ranchers and Agriculturalists, Fence for Life and others.
"Some organizations have stolen the term 'human rights' and use it to advance a radical agenda of erasing Israel's Jewish-democratic identity, limiting our right to defend ourselves and tying the hands of the IDF while trampling the human rights of the majority of the public," Im Tirtzu explained.
Marchers are requested to speak in a civil manner and stick to expressing "positive messages," the group added.
The Judea and Samaria (Yesha) Human Rights Group took other human rights groups to task Thursday for condemning rabbis who oppose selling and renting homes to non-Jews, while remaining silent on the Palestinian Authority (PA) death penalty for selling property to Jews.
 Orit Strook, head of the Yesha group, said: "In recent years, Israel has become the only country in the free world where human rights groups openly work to remove people from their homes and ignore the violations of the rights of hundreds of thousands of Jews and Arabs, just because of their political views."
She also chided the Israeli government for not lifting a finger against the PA law. She added that the Defense and Justice Ministries even appeared to support the principle behind it in the case of Peace House in Hevron, where Jews who bought a home from an Arab were evicted. 
An Im Tirtzu rally at Na'alin (file) / courtesy Im Tirtzu