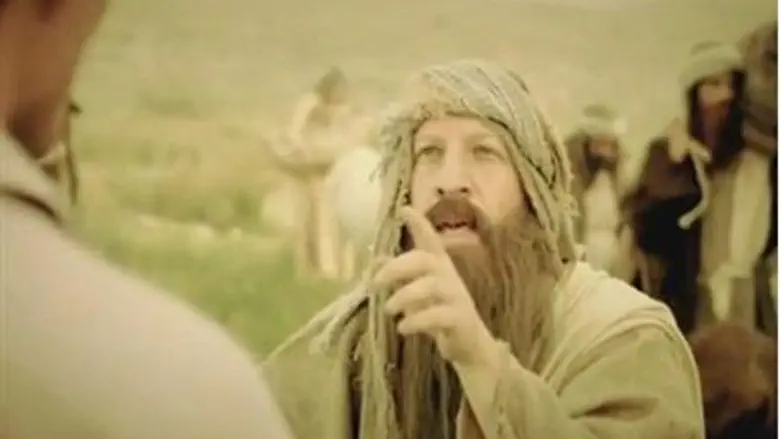 Binyamin Movie
Binyamin Council
The Binyamin Regional Council has produced a dramatic, 30-minute movie depicting in story form what the settlement enterprise is all about: Return to roots and renewal of Jewish life in Israel's historic homeland.
Named Et Katzir (Harvest Time), the film is being screened several times a day at the new Psagot Winery visitors center in the hills of northern Jerusalem, near Pisgat Ze'ev.
Hebrew trailer:

The plot features a successful Israeli businessman, Yonatan, sent by his boss to London to close a big deal. However, he learns abruptly that his father is in the hospital and must undergo a major operation – and will not be able to harvest the grapes of the family vineyard. Yonatan makes a hard decision: He returns to the Jewish settlement community in which he grew up and leads the harvest.
Accompanying the story line are Biblical characters such as Jeremiah the Prophet, reminding Yonatan that his historic national roots are in the Land of Israel, and particularly in Judea and Samaria. "Look around you," he hears. "Every hill is part of history. Every stone has a story… You'll see, the children of Israel will some day return to these lands…"
The voice is backed up by true-to-life scenes of precisely that prophecy coming true: An Israeli flag fluttering in the wind over Jewish towns in Samaria, Jewish children playing, and the like.
Winery owner Yaakov Berg, of Psagot, says the film was meant to "deal with questions of identity, and is an attempt to connect our visitors with the history of this special piece of land. I would like those who see the film to understand that we are not ranting people murmuring prayers all day, but rather people more or less like them who work for their living."
The Psagot Winery, now seven years old, produced 4,000 bottles of wine in its first season – and 85,000 last year. Its vineyards are located in Psagot, Har Bracha, Moshav Mata, and elsewhere. When a road was first paved to its first vineyard, the tractor uncovered a deep pit – and for the next two months, archaeological excavations took place there, until a Second Temple cave with wine-making equipment was found there. "This was a clear sign to us," Berg says. "Our forefathers made wine here 2,500 years ago – and we, too, used it as our first wine cellar."