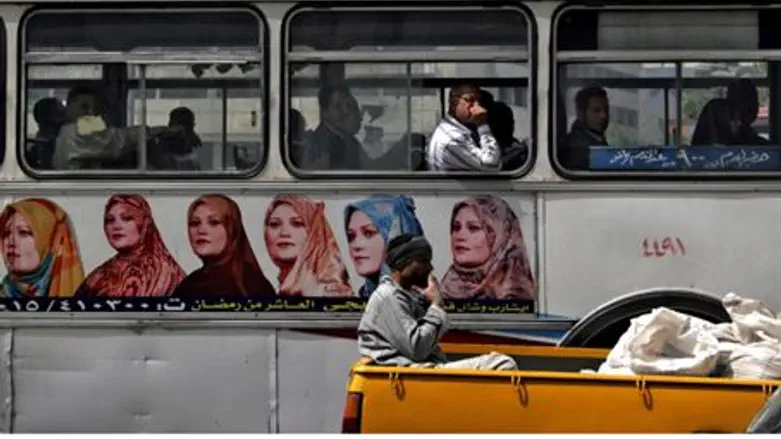 Egyptians on Cairo bus
Israel news photo: Flash 90
Muslim-Christian tensions broke out on Monday in southern Egypt, where a Muslim mob stormed a Christian neighborhood in the mixed city of Abu Tesht and set fire to several homes. The arson attack followed rumors that a Christian man was romantically involved with a young Muslim woman.
None of the town's Christian residents were hurt in the mob attack. Police were sent to the area to restore calm.
The Christian man and Muslim woman who became the subject of rumors after being seen walking together have been arrested. Police say they will investigate.
Last year a Christian man was accused of raping a Muslim girl. The alleged assault led to Muslim demonstrations and ultimately to violence, when six Christians and one Muslim guard were murdered at a church.
This year, Muslim anger was sparked by rumors that a bishop's wife was being held captive by the church after converting to Islam. Some Muslim leaders also accused Egyptian Christians of stockpiling weapons and receiving bombs from Israel.
Egyptian human rights groups have warned that violence against the country's Christian minority is on the rise. Egyptian President Hosni Mubarak tried to discourage violence in a speech in October, in which he stressed national unity and warned that incitement would be punished.