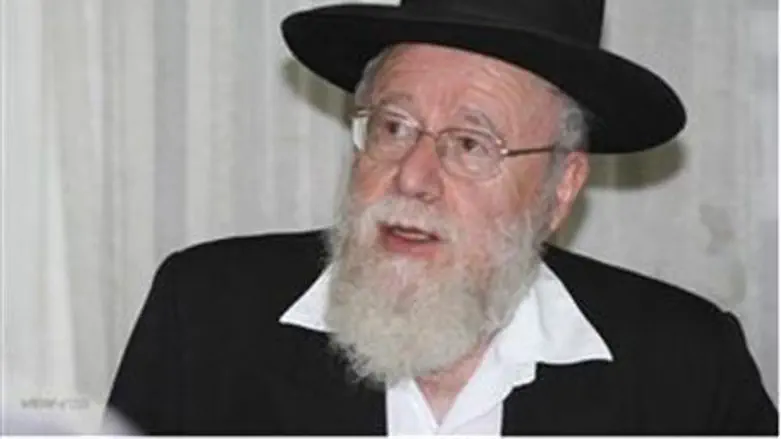 Rabbi Dov Lior
(file)
Rabbi Dov Lior, the chief rabbi of Kiryat Arba and one of the leading religious-Zionist rabbis, called on Prime Minister Binyamin Netanyahu to stand firm in the face of pressure of those who demand a continuation of the freeze on construction for Jews in Judea and Samaria.
In a letter to the Prime Minister, Rabbi Lior wrote: "You have merited the task of representing our nation in one of the most difficult periods in the process of our nation's redemption, and therefore you are obliged to stand as a rock in the face of all of our enemies who seek to hurt us.
"In this difficult hour for the State of Israel, which is facing harsh pressure from the nations of the world, and especially from the 'western power,' to give up our right to our historic homeland, I am taking the step of wishing you 'chazak ve'ematz' (be strong and firm) from the heights of the Judean Mountains, the birthplace of the Kingdom of Israel, the place where our holy Forefathers rest, and the location in which Israel's greatest leaders lived and acted in the past."
Rabbi Lior wrote of the spiritual fortitude of Israel's forefathers, and wished the Prime Minister "that you will merit to take in from the greatness of these people the mental strength and ability to stand firm.
"I have no doubt that if you exhibit resolution, the nations' wickedness will subside and G-d, the Lord of Israel's Hosts, will help you find your way out of this whole entanglement and you will merit to sanctify the Name of Heaven throughout the entire world.
"There is a G-dly commandment in the Torah not to fear or tremble during wartime."
An emergency meeting of Israeli rabbis will be held Tuesday evening in Jerusalem, in order to fight the PM's apparent intention of succumbing to U.S. pressure and ordering a 3-month freeze on construction for Jews in Judea and Samaria.