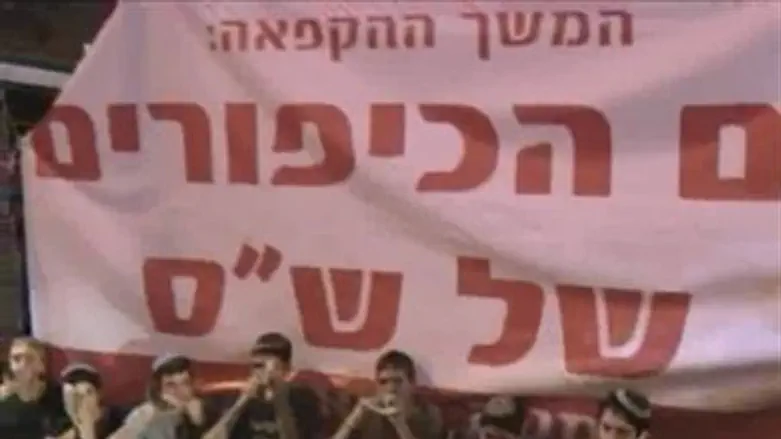 Demonstration outside Minister Eli Yishai's h
Arutz Sheva
Dozens of people protested angrily Sunday evening outside the homes of ministers from the Shas party, after the party's leaders said they would abstain in a vote on extending the building freeze in Judea and Samaria. The protest was orgnanized by the grassroots residents' councils of Binyamin and Samaria, and the Kommemiyut leadership group.
Protesters blew ram's horns and held large signs that proclaimed "The Freeze is Shas's Yom Kippur" – a reference to the Yom Kippur War of 1973, in which Israel sustained heavy casualties due to poor intelligence. Other signs blamed Shas Chairman Eli Yishai for the freeze. The demonstrators also chanted: "Shas are liars!"
Yassam special police forces arrived outside Yishai's home and asked the demonstrators to move away from his residence. The protesters complied. 
Activist groups working on behalf of Judea and Samaria Jews say they plan an aggressive campaign against the Prime Minister's intention of giving in to US President Barack Obama's demand for a three-month freeze in Judea and Samaria that is supposed to enable the Palestinian Authority to reenter negotiations with Israel. They plan a massive campaign in the media, as well as demonstrations throughout Israel.
In an emergency  meeting of nationalists Sunday afternoon, Rabbi Shalom Dov Wolpe of the Our Land of Israel movement said that what is happening now also happened during the "Oslo process."
"Then, too, the temptations of power were what decided the matter, and Shas gave up on ideology in favor of cabinet seats. The members of Shas must remember that there is justice and there is a Judge."
Besides demonstrations outside Shas heads' homes, it was decided to establish activist teams to accompany Shas ministers "everywhere, in the synagogue, on shopping, in tours – and we will always remind them that they are breaking their promises to the public and betraying their voters."