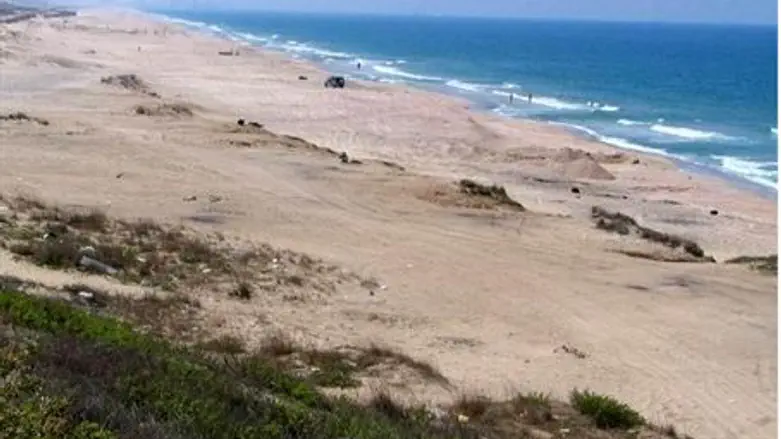 Palmahim Beach
Israel news photo: SavePalmahim.org
Good news for beach lovers, environmentalists, and Moshe Q. Public: The plan to build a holiday resort village on a popular beach front, thus effectively turning it into private or hard-to-access property, has been shelved.
The Central District Regional Planning and Building Commission announced its approval of a government proposal, submitted by Environment Minister Gilad Erdan, to nix the plan for a holiday resort on the Palmahim Beach. The beach is located ten kilometers south of Tel Aviv, and west of Nes Tziona and Rehovot.
Palmahim Beach is recognized as a natural and unique coastal strip that serves about a million residents of the surrounding towns. Plans for the resort met with strong opposition from various quarters, led by Minister Erdan. State Comptroller Micha Lindenstrauss wrote a report on it a year ago, criticizing the project's planning process and the marketing of its land. He noted that the Palmahim Beach was one of the few beautiful beaches remaining in Israel, and that it must be preserved for the public. A few months ago, Prime Minister Netanyahu announced, "The Palmahim Beach must be returned to the public."
Minister Erdan hailed the decision as "a major victory for nature and for the quality of life of the country's residents. The committee members made a historic decision, giving preference to the public interest and correcting past mistakes made at the expense of the public. Israel's beaches are a scarce resource, and we must do everything possible to preserve open and equal access to them for all."
The Nature and Parks Authority has submitted an alternative plan designating the beach as a national park and an open public beach.
The SavePalmahim grassroots organization responded with joy to the decision.  "This is a milestone in our struggle for Israel's beaches," it wrote on its website, "reached in the merit of the public that arose to make itself heard, read the Comptroller's Report to understand its grave findings, and passed them on…" 
The Commission resolved that alternative sites for the resort must be found, at a distance from the beach mandated by the Beaches Law.
The now-canceled plan was for 350 rooms on an area of 70 dunams (17.5 acres) only 100 meters from the shoreline.
Israel has fewer than 200 kilometers of beach along the Mediterranean. Nearly 50 of them are closed off by the army, and another 50 are city-run with built-up properties somewhat off the coast. Only 40 are considered to be open beaches with no homes, hotels or other structures behind them – most of these in central Israel.