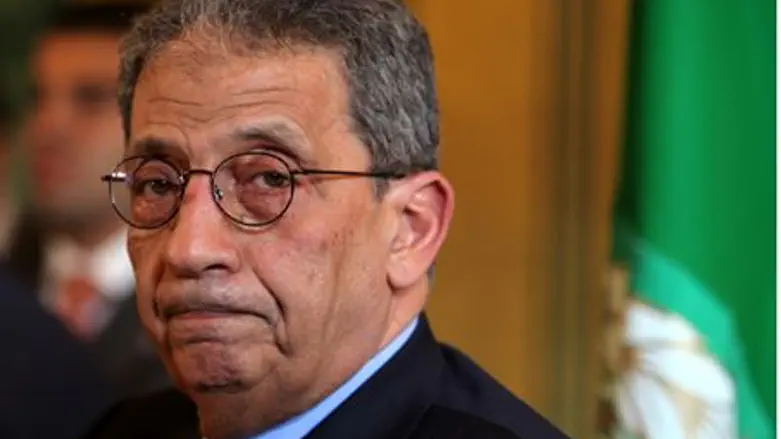 Amr Moussa
Israel news photo: Flash 90
Amr Moussa, head of the Arab League, has threatened to tell the Palestinian Authority to end talks with Israel. In an interview with the Toronto Star, Moussa suggested a variety of alternatives, among them seeking a "one-state solution" to include both Israelis and Palestinian Authority Arabs.
Moussa also blamed Israel for a variety of Arab woes, including lackluster tourism, floundering economies and even the lack of railways.
Among the alternatives he proposed to talks were bringing the matter to the United Nations Security Council, unilaterally proposing a new Arab state in Judea, Samaria and Gaza, and disbanding the PA and challenging to with "the whole thing" as an "Occupying Power." 
Moussa said peace talks have been used to "manage the problem, not solve it," and he accused Israel of failing to take talks seriously. He claimed that by allowing Jews to build homes in Judea and Samaria, Israel  is "leaving only pieces of territory here and there" for Arabs; however, Israel is currently allowing construction only within the city limits of existing Jewish communities, meaning that no new land is coming under Israeli control.
His criticism centered around Israeli construction, which he said makes the peace process "useless." In the past, the PA and the Arab League agreed to several rounds of talks while Jewish construction continued; however, since Prime Minister Binyamin Netanyahu declared a temporary unilateral building freeze in Judea and Samaria one year ago, the PA has demanded that the freeze continue if talks are to continue.
Moussa blamed Israel for the lack of negotiations at present, and blamed the current lack of a peace deal for a  variety of problems facing the Arab world. "If we succeed in solving the Palestinian problem, things will change dramatically towards social and economic development," he opined. "There'll be less threats of terrorism, less threats of violence, less regional tensions, which will open up the movement of people, more tourism, railways, highways, etc."
Interviewer Haroon Siddiqui said at that point that Moussa's explanation of Arab world woes "sounded like an excuse." Moussa responded, saying, "It was an excuse at some time and for some policies. Now it is real because we cannot move" due to tension and fear of violence.
He ended with a message for United States President Barack Obama, saying peace in the Middle East would be in America's best interest. "Instability in the region also adds to the (negative) image of the United States."