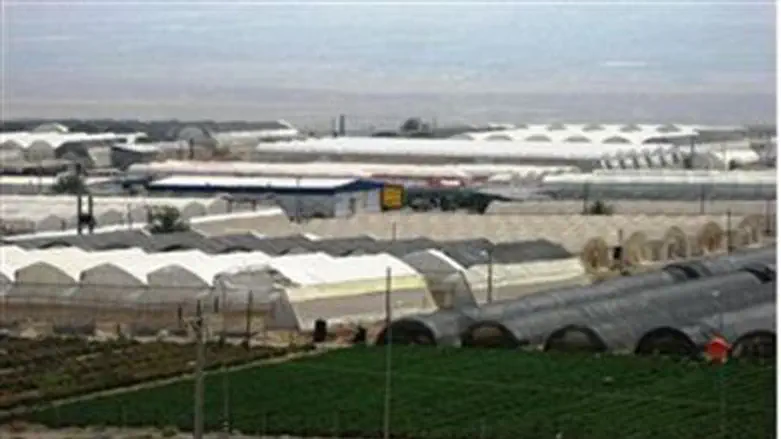 Jordan Valley Greenhouses
Israel news photo: Hagai Huberman
Rumors are growing of an American proposal for Israel to lease the Jordan Valley from the Palestinan Authority.
According to a report broadcast Monday on IDF Army Radio, sources in Jerusalem have confirmed that Washington suggested the plan to Prime Minister Binyamin Netanyahu.
The Prime Minister, who is headed to the United States this week to meet with Vice President Joe Biden, allegedly has agreed to the idea. The only question is the length of the contract: reportedly the United States recommended a seven-year lease, which Netanyahu allegedly rejected out of hand, saying it needed to last instead for "dozens of years."
The plan, discussed among cabinet ministers in closed session, was allegedly rejected by coalition partner Jewish Home party chairman Professor Daniel Hershkowitz, who asked why Israel would need to lease land "that belongs to us."
A second minister reportedly recommended the contract not be considered for "anything less than a 99-year lease."
The Arabic daily newspaper A-Sharq Al-Awsat, meanwhile, reported Friday that the U.S. proposed a deal in which the PA would lease lands in the Jordan Valley and Jerusalem to Israel as part of a final status arrangement.
There was no confirmation of the report from any source, according to the Israel Broadcast Authority (IBA). However, the report quoted Ofir Gendelman, head of the Foreign Ministry's Arabic media department, who allegedly said Israel was negotiating directly with the U.S. "in an effort to resume direct talks with the Palestinians."
According to the Arabic daily's report, under the plan, the length of the lease would be between 40 to 99 years. In exchange, Israel would recognize the PA as a new country, along the Jewish State's pre-1967 borders, in Judea, Samaria, Gaza and much of Jerusalem.
The newspaper alleged that the United States "had not informed" PA Chairman and Fatah leader Mahmoud Abbas of the negotiations with Israel. The source added the talks were considered "U.S.-initiated, rather than Israeli," and had been "taking place for a long time, in order to reach common ground with the Israeli side, in order to achieve initial understanding on the issue of borders, and understanding on what is expected to remain under Israeli sovereignty."