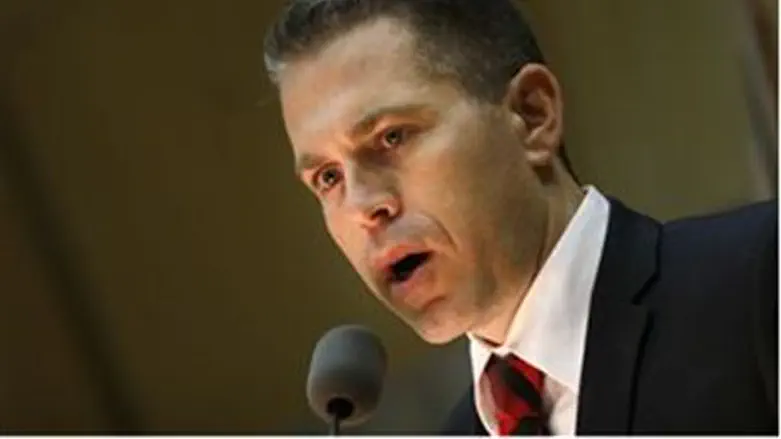 Minister Gilad Erdan
Israel news photo: Flash 90
Environment Minister Gilad Erdan, one of the Likud's most vociferous opponents of the Disengagement in 2004-5, will apparently be Israel's next ambassador to the United Nations.
Following the customary weeks of disagreement between the Prime Minister and Foreign Minister over the choice of Israel's next ambassador to the United Nations, Binyamin Netanyahu and Avigdor Lieberman have finally come to an agreement: Gilad Erdan, Israel's young Minister of Environmental Affairs, will be asked to take the job.
Informed sources in the Likud Party say Erdan is likely to agree to assume the prestigious position. He was offered it several years ago, during his first term in the Knesset, but turned it down at the time.
Erdan, who turned 40 just last month, is in his third term as Knesset Member, and his first term as a Cabinet minister. Also in his resume: Chairman of the "Al Sam" Association educating towards the dangers of drugs, founder and chairman of the Lobby for Soldiers Missing in Action, former advisor to Prime Ministers Netanyahu (in the late 90's) and Sharon, and chairman of Likud Youth. He has gained popularity of late for his strong stand in favor of environmental concerns.
If Erdan accepts, he will replace Gabriella Shalev in Israel's seat in the UN.  Law professor Shalev announced her resignation four months ago, after having been chosen in 2008 by then-Prime Minister Ehud Olmert and Foreign Minister Tzipi Livni.
Shalev, Israel's 14th Ambassador to the UN, was immediately preceded by Dan Gillerman. Others who have held the post include Dore Gold, Abba Eban, former President Chaim Herzog, and Prime Minister Netanyahu.