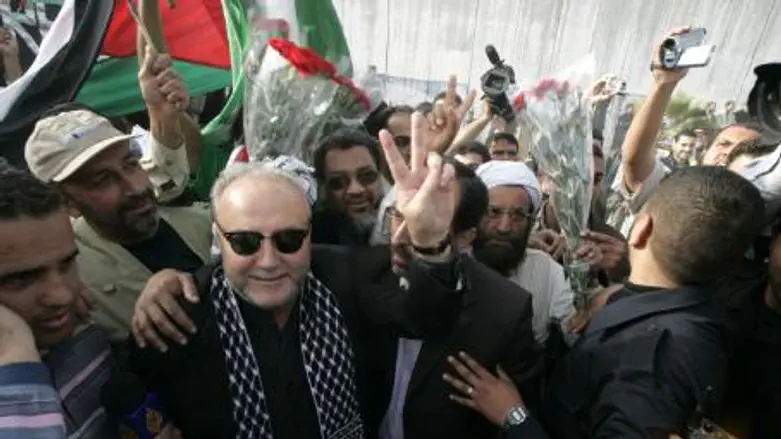 Viva Palestina logo
Israel news photo: Wikimedia Commons
The pro-Hamas Viva Palestina convoy that was to have set sail for Egypt on Monday remains trapped in Syria, organizers said Tuesday. The delay affects the land convoy that planned to enter Gaza from Egypt.
A flotilla of ships aimed at breaking Israel's naval blockade on Hamas will attempt to reach Gaza along with the land convoy. The ships hail from several countries, including Algeria, Jordan and Morocco.
Viva Palestina organizers suggested that "forces who are against us" are behind their prolonged stay in Syria.
Organizers are locked in a struggle with Greek contractors over the price of transport for 150 vehicles from the Syrian port of Latakia to El Arish in Egypt. Viva Palestina has accused the contract ship of suddenly raising its prices.
Viva Palestine is headed by George Galloway, a former British MP who openly supports Hamas. Galloway has previously met with Hamas leaders in Gaza and given them large sums of cash.
Hamas' platform includes the goal of destroying the state of Israel and imposing Islamic law on the world. Israel closed its Negev crossings to all goods aside from humanitarian aid after the terrorist Islamist group seized control of Gaza in a 2007 coup. 
While Israel now allows everything but weapons and dual-purpose goods to enter Gaza via the Negev, Viva Palestina and similar organizations claim the region is suffering from a humanitarian crisis brought on by Israel's refusal to open its crossings completely, and to allow ships to enter the Gaza port unchecked.
The latest convoy follows a Gaza-bound convoy that in May clashed with IDF commandos who attempted to board the boats and turn them toward Ashdod. Passengers on one ship, the Mavi Marmara, attacked and stabbed two soldiers and dragged them below deck, leading to an armed clash in which nine passengers were killed.