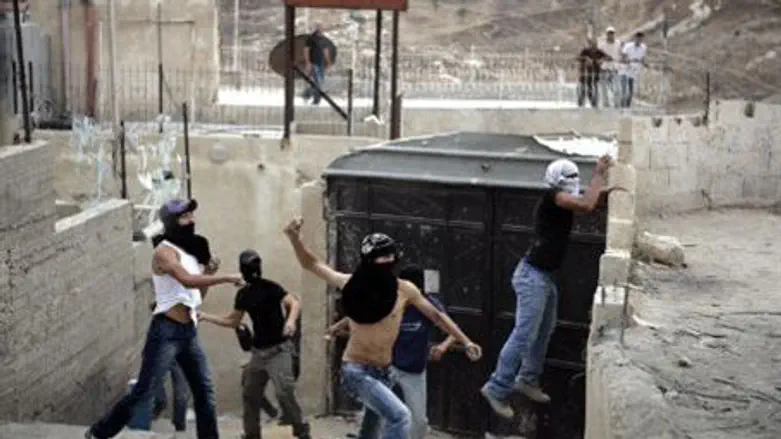 Rock attack in Mei Shiloach (archive)
Flash 90
An Israeli driver managed to escape Sunday after being targeted by an Arab mob that hurled rocks at his car. The attack took place in the Jerusalem neighborhood of Shiloach (Silwan) near the Old City - just 150 meters from the site of a similar attack on Friday.
Following the Friday attack, police had faced accusations that they did not do enough to protect Jewish motorists in the city.
An eyewitness told Arutz Sheva that approximately 30 Arab youths took part in the Sunday attack. A handful of young men stood near the road, and whistled for their friends to come out of hiding when they saw an Israeli-owned car coming. They began pelting it with rocks.
The driver managed to pass the attackers, but was then trapped in a traffic jam. The rock throwers approached and continued their attack until the driver managed to turn toward Ir David (City of David) and escape.
The witness compared the attack to the attempted lynch of Meir Indor and his wife Batsheva in Jerusalem less than two weeks earlier. If the driver had not succeeded in escaping when he did, he might have been wounded as Meir Indor was, the witness stated.
On Friday, a group of Arab boys and teenagers ambushed and pelted Israeli cars with rocks in Shiloach, as members of the press stood by and snapped pictures. The attacks ended with the injury of two of the stone throwers when they ran at a Jewish man's car as he swerved, and were hit by the car.