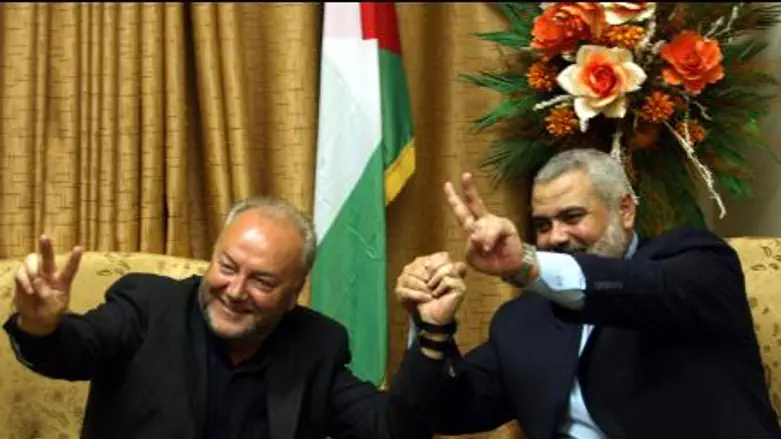 British MP Galloway, Hamas PM Ismail Haniyeh
Israel news photo: Flash 90
Syria is hosting pro-Hamas activist and former British MP George Galloway, who is pleading with Egypt to allow his 'Viva Palestina' group to enter Gaza. Egypt has not yet announced its decision, but last January, Egyptian Foreign Minister Ahmed Aboul Gheit said, "George Galloway is considered persona non grata and will not be allowed to enter Egypt again." This was shortly after Galloway attempted to enter Gaza through Egypt with a much publicized convoy of goods, although Israel allows ample supplies into Gaza through its crossings.
"We have no problem with Egypt, Egypt is not our enemy. Our enemy is the Zionist state of Israel," Galloway told a press conference in Damascus. "We want to focus international opinion on the crimes of Israel. Palestine is in my eyes and my heart, and I'll be sad if I now have to stay away from it."
Galloway plans to leave Syria Thursday or Friday with 144 aid vehicles and a band of nearly 40 pro-Hamas activists from 30 countries who are scheduled to sail to Egypt. They want to reach Gaza by land, circumventing the Israeli maritime blockade aimed at preventing Hamas from bringing more terrorists and advanced weapons in to Gaza.
George Galloway, who has been barred from entering Canada and whose Viva Palestina group has been linked to terror groups such as Hamas, stopped off in Turkey on his way from London to Damascus.
He visited the grave of one of the terror activists killed last May when members of the IHH terror-linked charity group ambushed Israel Navy commandos who boarded their Turkish-sponsored Mavi Marmara ship to detour it from the direction of Gaza.
A Jordanian delegation is expected to join Galloway in Syria with 52 buses and 134 activists, while a North African group still is looking for a boat to take them to Syria. Algerian activists said they will fly to Damascus Wednesday and join the convoy.