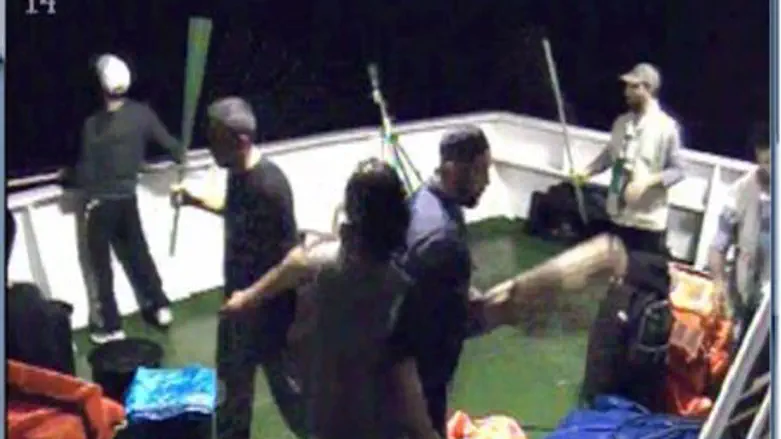 Terrorists on flotilla ship
Israel news photo: Flash 90 / IDF
The Turkish-based IHH group that sent terror activists on a flotilla ship in May to clash with IDF soldiers, hoping to break Israel's blockade of Gaza, now plans to launch a second attempt to coincide with the anniversary of the Cast Lead counter-terrorism war.
According to a statement by the group posted on the Internet earlier this week, "The convoy will set off in New Delhi, capital of India, on December 2 … [and] aims to reach Gaza on December 27, the anniversary of the Gaza war."
The group added that some 500 activists from 17 "Asian countries" are launching "a new movement for an end to Israeli seiege (sic) on occupied land." The slogan for the flotilla will be "the peoples of Asia are side by side with the Palestinian people." 
Activists from India, Pakistan, Indonesia, Japan, Malaysia, Afghanistan, Bangladesh, Nepal, Sri Lanka, Iran, Iraq, Turkey, Syria, Egypt, the Palestinian Authority, Jordan and Lebanon are expected to participate, according to the statement.
Trucks and school buses allegedly bearing aid will pass through India, Pakistan, Iran, Turkey, Syria, Lebanon and Jordan before sailing – but will travel to Syria by land before attempting to ship out to Gaza.
The IHH organization said it plans to host the flotilla group at a large public gathering when it arrives in Turkey.
IHH Links to Terror; Turkish Leader Linked to IHH?
The IHH-sponsored terror activists who clashed on a flotilla vessel with Israeli Navy commandos overnight May 30-31 were warmly received upon their return by Turkish government officials, according to a report published in July in The New York Times. Nine of the terrorists were killed in the clash when they attacked IDF soldiers who boarded the vessel to redirect it to Ashdod port, leading to international calls for a United Nations investigation of the incident.
"The mission to Gaza served both the IHH and the government by making [them] both heroes at home and in the Arab world," the Times report quoted Ercan Citilioglu, a terrorism expert at Bahcesehir University in Istanbul. Moreover, despite IHH denials, journalist Tyler Hicks found that 21 people on the group's board of the directors currently have or had in the past close links with Turkish Prime Minister Recep Tayyip Erdogan's AK Justice & Development party.
Germany, meanwhile, has outlawed the IHH group, noting its ties to the Hamas terrorist organization. Six Italian Members of Parliament have submitted a proposal to ban the group as well. The MPs pointed out that IHH is a member of the "Union of Good," a Saudi Arabia-based umbrella group for Islamic organizations affiliated with the Muslim Brotherhood. The Union of Good funnels money to Hamas and has been banned by Israel and is listed in the United States as a supporter of terrorism.