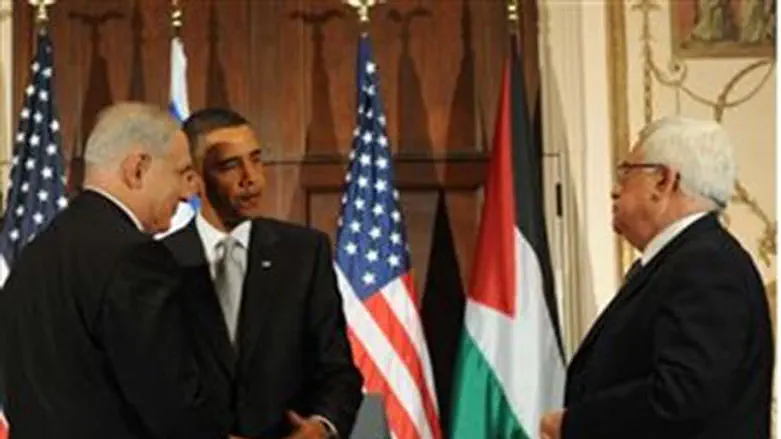 Netanyahu, Obama, Abbas
Israel news photo: Flash 90
The Executive Council of the PLO terrorist umbrella group that convened in Ramallah (near Ofra) Saturday issued a call to Palestinian Authority chief Mahmoud Abbas to break off the direct talks with Israel if Jewish construction in Judea and Samaria is not refrozen. Direct talks began under American auspices less than one month before a self-imposed ten-month Israeli construction freeze in Judea and Samaria ended. During that time, Jews were not allowed to build homes, patios, classrooms or additional rooms for themselves  in the Biblical heartland of the land of Israel while Arabs were free to build homes, and even began construction of an entire new city.
PA spokesman Nabil Abu Rudeineh said that "there will not be talks in the shadow of continued [Jewish] settlements and without a complete cessation of building [by Jews]." Abbas will meet Jordanian King Abdullah, and on Wednesday the matter will be discussed by the Arab League, which claims it has been putting off the debate on the matter in order to allow the sides to find a compromise.
Kadima party head Tzipi Livni reacted to the PLO decision Saturday by attacking Prime Minister Binyamin Netanyahu. "Netanyahu knows that it is within his power to make the decisions that will make continued negotiations possible and that Kadima will support any decision that advances the talks, and strengthens Israel's security interests," the Opposition leader stated. "Sabotaging the talks will deal a genuine blow to Israel's interests. Netanyahu should prefer Israel's true long term interests over all personal political ones."
MK Ofir Akunis, head of the team that handles Likud's political statements, responded to the PLO's decision by saying: "The Palestinians are the obstacle to peace – not the freeze and not the thaw. The only reason for the stalling of the talks is a lack of will on the Palestinian side to reach peace with Israel." 
The current situation appears to spell failure for the United States' initiative to restart direct negotiations between Israel and the PA, kick-started with some fanfare in Washington one month ago. Still hoping to salvage the talks, President Barack Obama's Special Middle East Envoy George Mitchell left Jerusalem for Doha, Qatar on Friday where he met with officials Saturday. He is to travel to Cairo and Amman on Sunday. 
"We continue to urge the parties to continue in these direct talks, and Senator Mitchell will be talking to leaders in the region to encourage them to continue to support this process," US State Department spokesman Phillip Crowley said Friday in a briefing.