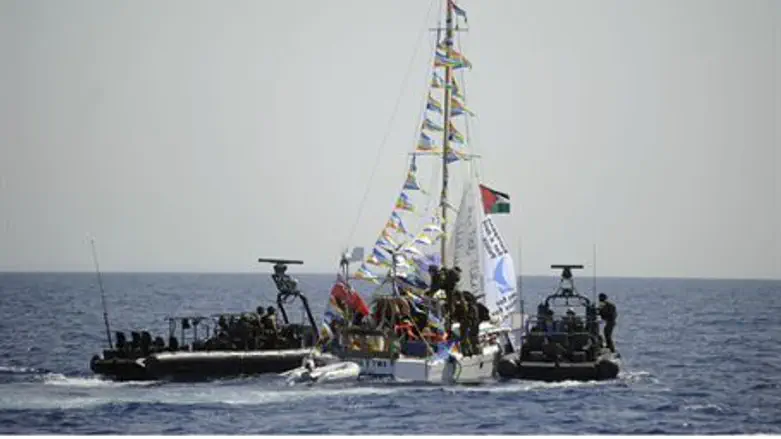 Boarding the Irene
IDF Spokesman
Following the takeover of the boat 'Irene,' which carried Jewish left-wing activists who wanted to reach Gaza, Major-General (ret.) Yigal Pressler said that the navy may have saved the activists from a dire fate. Pressler, a former adviser on counter-terrorism to Prime Ministers Yitzchak Shamir, Shimon Peres, Yitzchak Rabin and Binyamin Netanyahu, said that the Gaza flotillas primarily endanger the activists themselves. "Gaza is enemy country. People who go there are putting their lives at risk and the leftists are also in danger. They could get abducted."
Pressler said the army acted properly with regard to the Irene. "All of these activists are always carrying out provocations," he said. "The government's decision that no ship may reach Gaza is a correct one. We know that there is nonstop smuggling [of weapons into Gaza] through tunnels, and we must prevent at all costs smuggling by sea. If, G-d forbid, the Israeli government allows a crack to open and  lets a ship pass through, this may become a permanent route for smuggling weapons and terrorists into Gaza."
Pressler calls on the activists to reveal their true intentions, "If they really want to provide humanitarian supplies, let them anchor in Ashdod and we will inspect the equipment and transfer it to Gaza. Let them do things the proper way. But right now, all they are doing is provocation. As far as I am concerned they can pass the goods through Egypt. I trust the Egyptians, because they too have an interest in preventing weapons from reaching Gaza. They also have many problems with Hamas."
Pressler believes that the previous raid's lessons have been learned well, "Today, if there are any people on deck, a lone soldier will not rappel down a rope [to the deck.]. They will use their heads. According to international law we are allowed to board the ship, and this is exactly what the IDF is doing."